Bright evenings and sunshine really do make life so much better. April was a blast on and off the bike. Plenty of miles in the legs and a very good month at the bench.
Carbon-Ti X-Hub on Farsports Feder 35mm Rim Rebuild – Cannondale Ai Spacing
A rebuild for Oisin Sands, the editor of Sportive.com.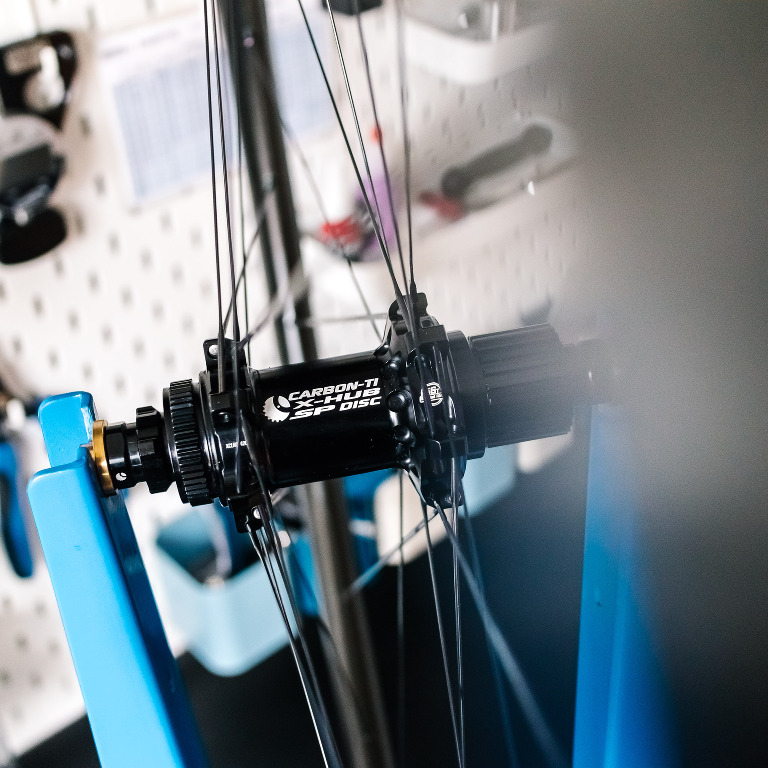 Prompted by a rear hub flange failure, the wheelset was rebuilt with Sapim CX-Rays and (customer-supplied) oil slick brass nipples. As the Farsports Feder 35mm carbon rims have no spoke holes in the rim bed, each nipple had to be inserted through the valve hole and carefully guided internally with a magnet. Once again the Noble Lacing Jig earned its place and then some.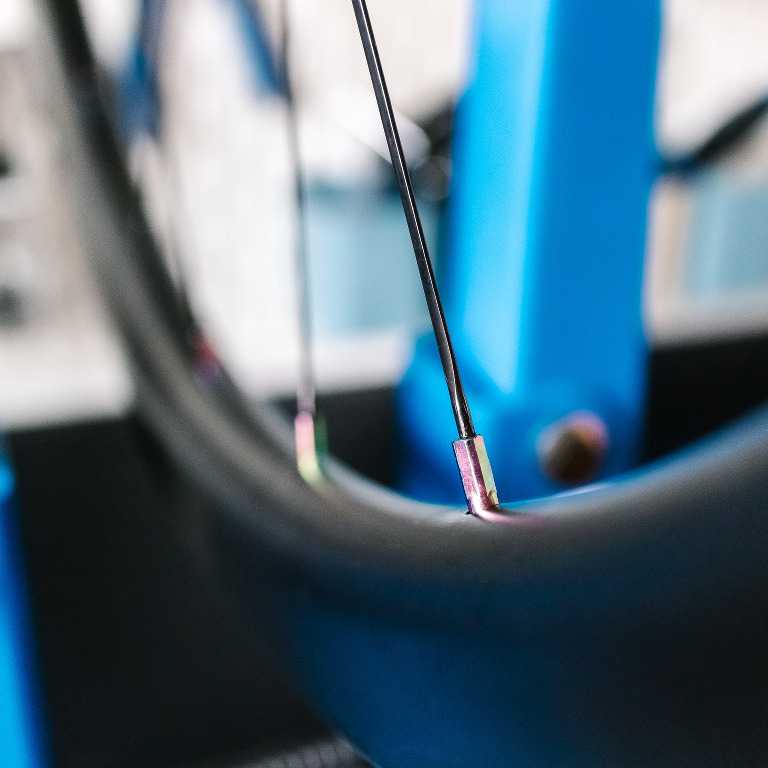 Oisin used the opportunity to request Cannondale Ai spacing on the rear wheel to match his new frame, which gave an excellent tension balance between DS and NDS spokes.
•
Tool Goals – BSC DS-1S Double Square Nipple Driver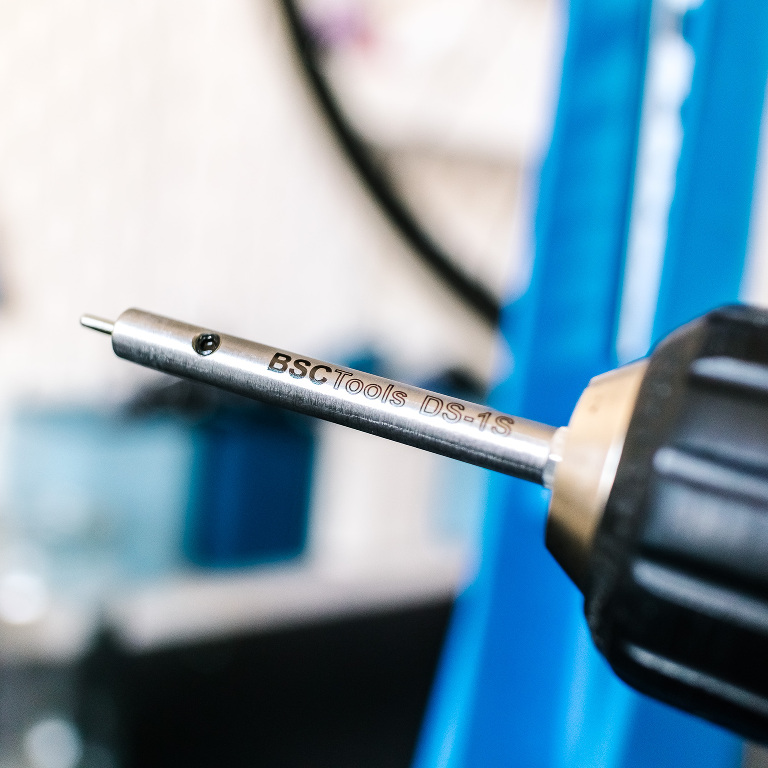 Similar to the DT Swiss Squorx nipple driver for sale in the store, this BSC driver aids in the initial even tensioning of wheels using double square nipples.
It's one of those tools that quickly becomes indispensable. Set threading depth with the pin and grub screw, pop it in a battery drill and away you go. So good.
•
Setting Spoke Line During Lacing
This photo from a recent 24h radial front wheel build demonstrates just how important spoke line setting can be as part of the hand-building process.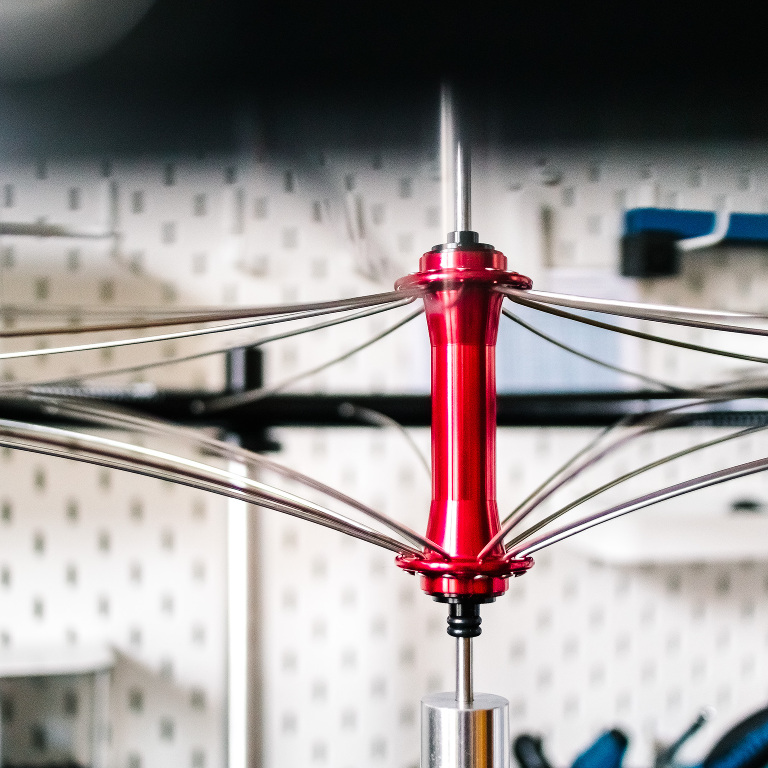 The long, slow bends in the spokes shown here are perfectly common during the lacing process. And they cause no harm to the final build as long as they're removed before tension is added. This is a step every experienced builder will include in their process and one I spend a lot of time on. If it's overlooked, the rider will be plagued with fatigue failures for the life of the wheel.
I plan to write a detailed blog post with diagrams on this topic, so I'll leave it here for now.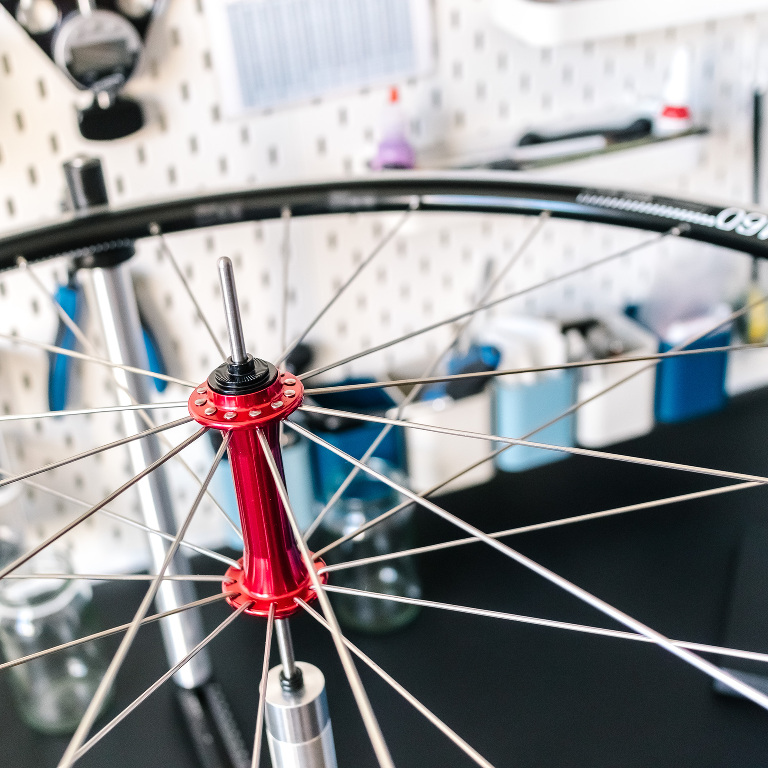 The finished wheel. Laced, set, tensioned, stress relieved and ready to roll.
•
Neville's Reynolds MTN AM Carbon 26″ Rebuild
This 2012 26″ Reynolds AM Carbon wheel was in for repair following a couple of nipple failures.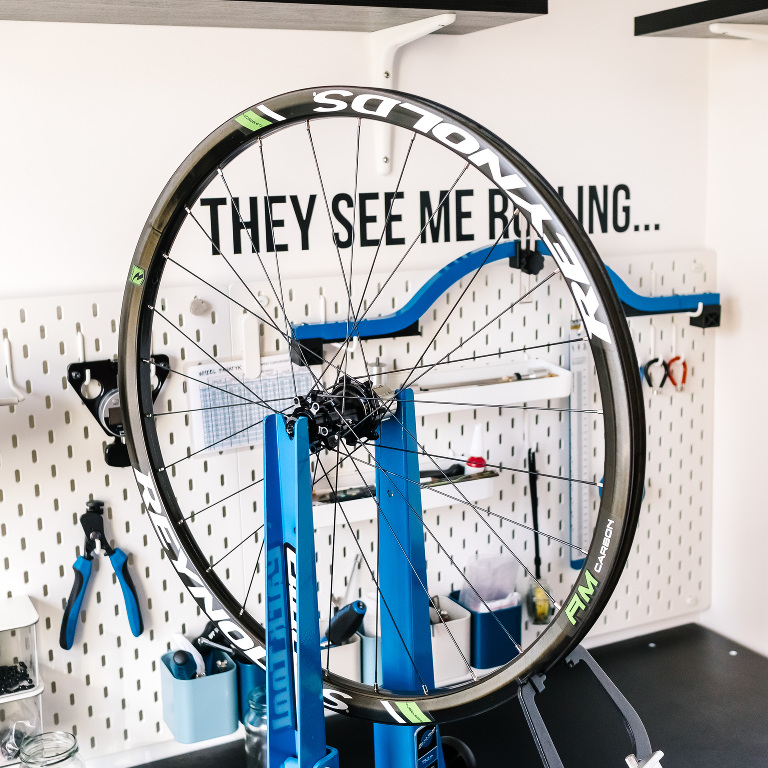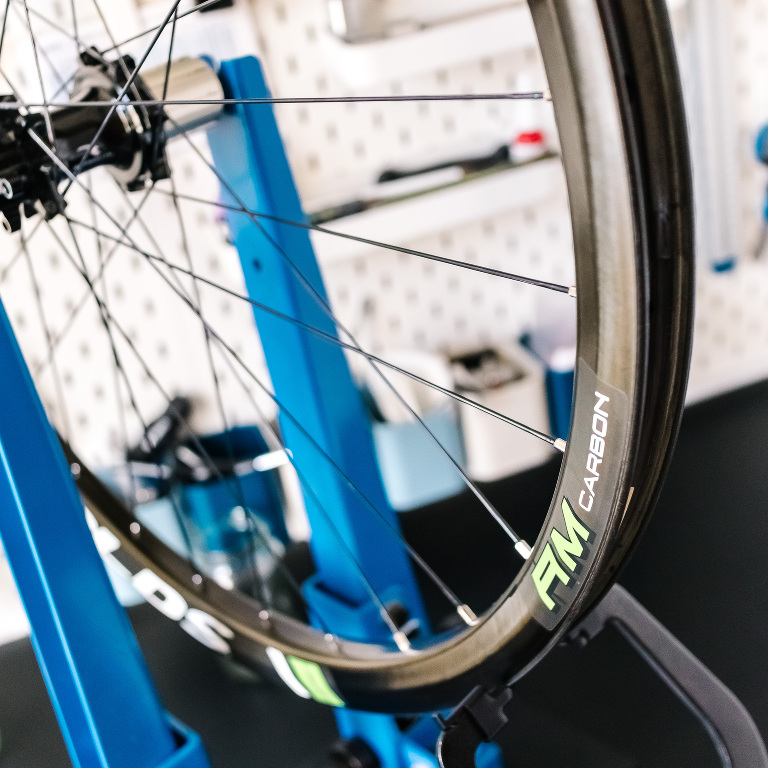 A rebuild with Sapim brass nipples will ensure many more trouble-free years of riding.
•
What The Pluck?
The humble guitar pick is an invaluable tool in a wheelbuilder's arsenal when it comes to spoke tension balancing. Much less painful than using a fingernail.
This Fred Kelly Freedom pick arrived from the US in February and currently holds the top spot at the bench.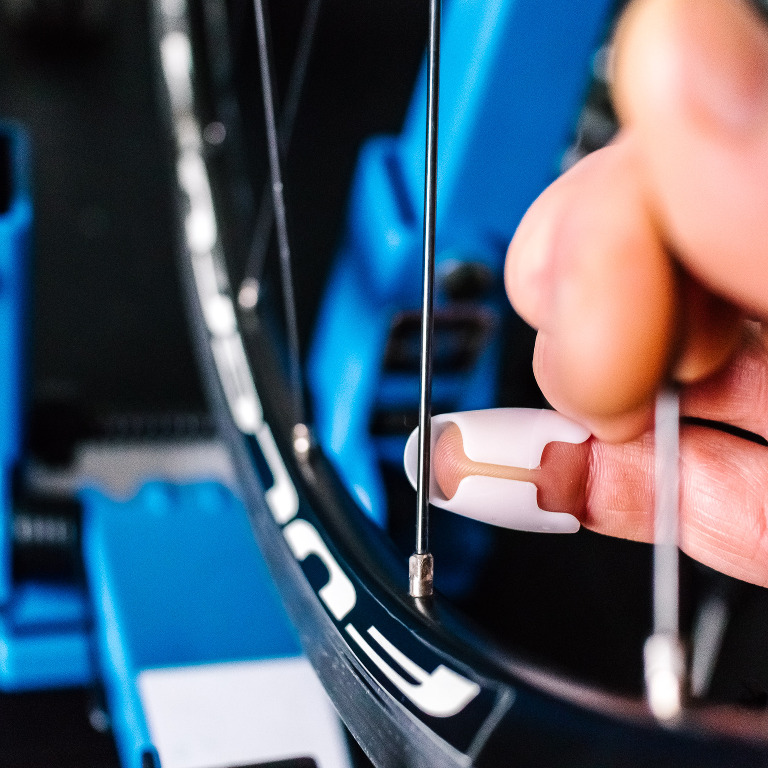 Plucking spokes like guitar strings is a great way to quickly check relative spoke tensions in a wheel during the build process. It's also an easy way to diagnose trueness issues on wheels that pass through the stand for repair. Spokes on the same side of a well-built wheel should have almost identical tension and musical pitch, with some slight differences present due to imperfections in its hub, rim (especially at the join) and the spokes themselves (e.g. small variations in diameter). Only slight though.
Try it on your own wheels as a test of their build quality. The wide variety of notes from "big brand" wheels might shock you.
•
Wheelset For A Friend
One day in ICT back in 2000(ish), I was scouring the early days of the internet and stumbled across a website from a local kid named Russell. The site, called DH Monkeys, featured photos of Russ riding at the nearby forest where I'd been building my own trails for a couple of years. As the MTB community was super small back then, it was a huge deal to find another rider in the area and we quickly became friends.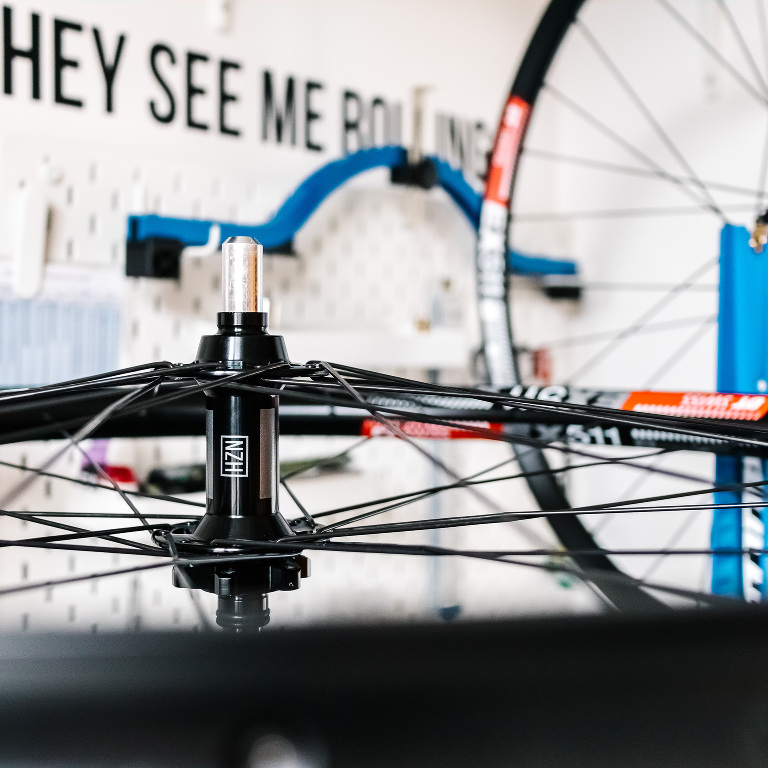 Fast forward a couple of decades and I had the privilege of building a set of wheels for his main rig.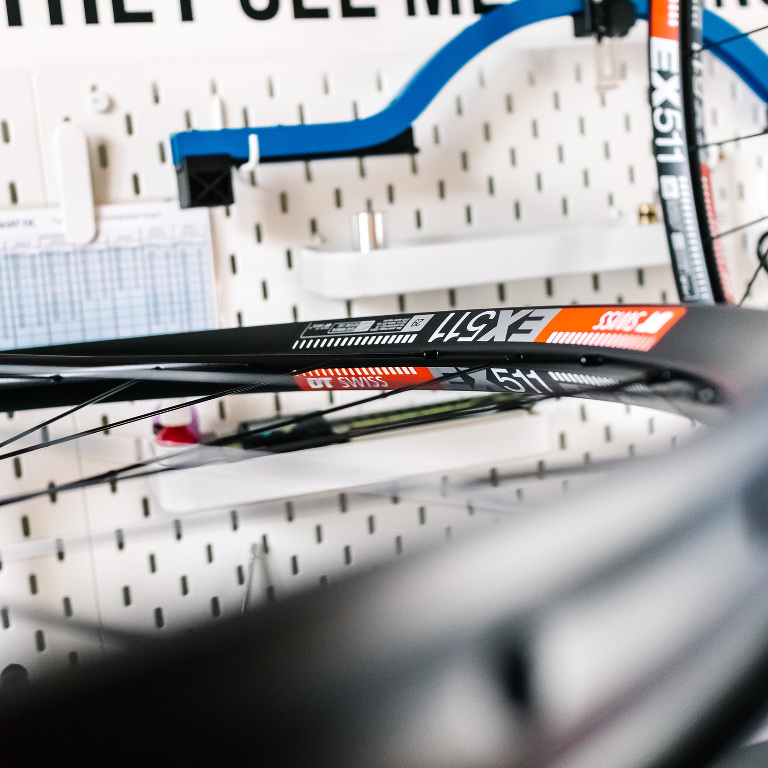 Russ was always the quickest in our group and tough on his gear. A recent flat spot on the bike's original Nukeproof Horizon rear rim led us down the route of a full rebuild using the original hubs. DT Swiss EX 511 rims were the obvious choice with a 30mm internal width and their Competition spokes in black completed the package.
•
Alloy Nipple Corrosion
It's been a month of corroded alloy nipples, mostly on carbon wheels.
The photographed internal nipples (or what's left of them) disintegrated inside a Token C50 Zenith rear wheel.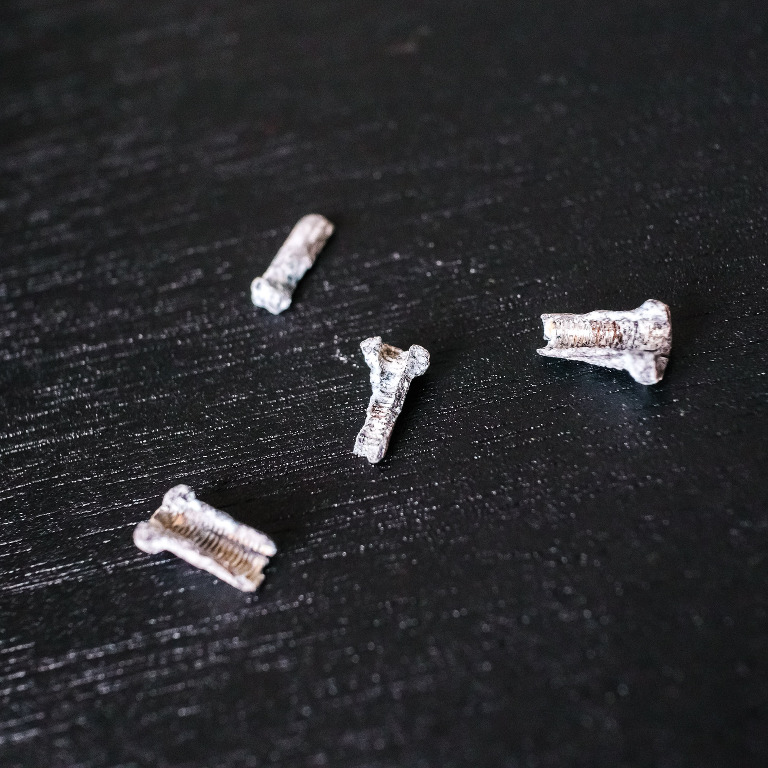 Alloy nipples are best avoided with carbon rims unless they're strictly dry weather wheels. The weight savings vs. brass nipples certainly help with large manufacturers' advertising campaigns but they're definitely not the best choice for longevity, especially in a climate like ours.
•
Random News
• April has been a fantastic month for wheelset bookings – thank you all so much. A good mix of mountain bike wheels to replace trashed rims and higher spoke count road wheels for heavier riders and bikepackers alike. The build list is currently stretching towards mid-May.
• My planned holiday week this month didn't go ahead to help meet a couple of tight timescales for customers' wheels, so I'll probably move it to June instead (most likely w/c 13th June).
• Stock availability for hubs and rims is generally very good and I am set with spokes for the foreseeable future thanks to the Morizumi. All this means turnaround turns for new build orders are improving with each passing week.
• If you only take part in one event this year, make sure it's The Lakelander Gravel Grinder in October. Stunning scenery and a challenging course combine to create a day on the bike you'll remember for a long time. Enter at the link above.