Jeez, that was a fast month… literally.
The workshop's picking up steam again after the winter hibernation and it feels really good. Here's an update on what's been happening at the wheel bench.
Cyclists For Ukraine
First up, a very important one.
Amy and Gavin at August Bicycles in England are good people. My kind of people.
They have set up a Just Giving page to raise money for The British Red Cross Society to help with the current situation in Ukraine.
It's not just any old fundraising page though… this one is a cyclist's dream. The two of them have used their considerable sway in the industry to bring together an enormous prize pot of cycling goodies from all over the world. It really is quite incredible.
A £5 donation through Just Giving (link below) = an entry in the draw to win the whole lot.
If you can help, please do. Simply click here.
•
Star Of The Show – The Morizumi SCT Machine
I hinted at its arrival in last month's blog post and now it's finally here and knocking out custom length spokes every day.
The famous Morizumi spoke cutting and threading machine. And it's all mine. A considerable investment for sure, but one that opens up so many doors as we move through this year.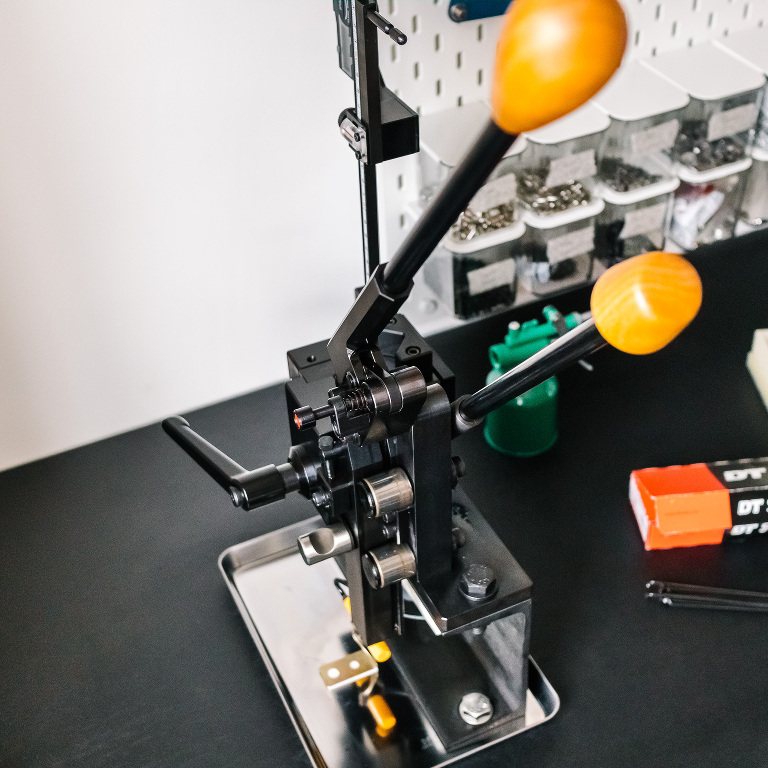 The Morizumi is well known for its accuracy and reliability in the wheelbuilding world. It brings with it the ability to custom cut spokes in 0.1mm increments and roll factory-spec. threads, over and over and over again, right at the bench.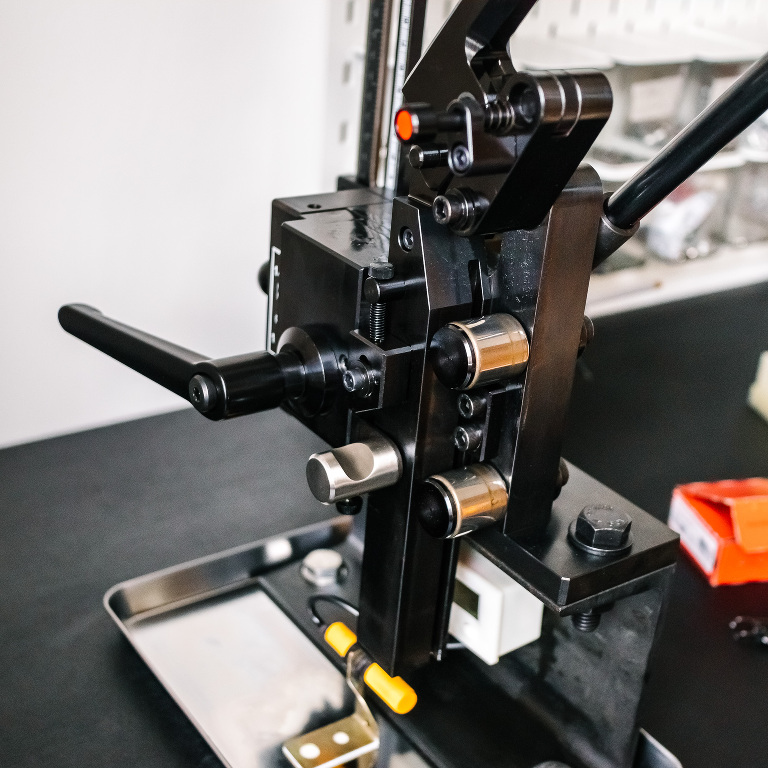 I always strive to provide the highest level of workmanship for my customers and this SCT purchase was an important step in pushing that service even further in 2022. Every stage in the wheelbuilding process is now done in-house, from the initial component specification to the spoke cutting and then final quality control checks. A true game changer.
•
Mavic Ksyrium Freehub Play
This Mavic Ksyrium came through the workshop this month with serious side-to-side wobble/play on the cassette body, which turned out to be terminal wear and tear on the hub shell caused by freehub contamination.
In some cases of Mavic freehub play, replacing the worn white bushing on the freehub body is enough to solve the issue, but not here. Unfortunately the damage to the hub shell where the bushing spins was too deep.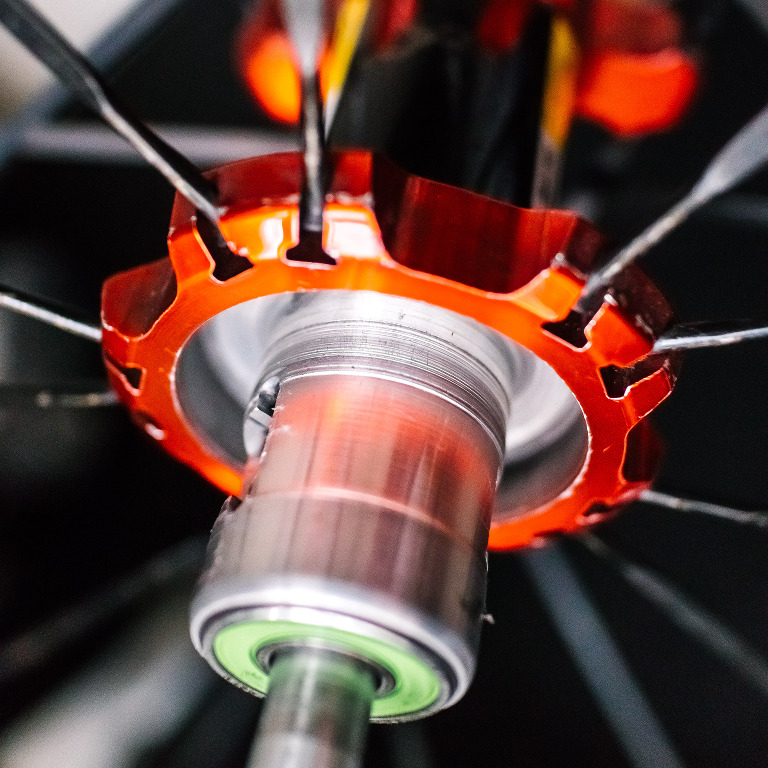 Mavic Ksyrium and Aksium freehubs are actually quite straightforward and inexpensive to clean and oil on a frequent basis, so it was a real shame to see a full wheel written off because of this wear.
It's a good reminder though – service your hubs regularly!
•
Sturmey Archer on Sun CR18 Wheelset for a Raleigh Twenty
This Dublin-built Raleigh Twenty Stowaway left the workshop after a full custom rust-oration, which included a new pair of wheels built on Sturmey Archer's track and coaster brake hubs and Sun CR18 rims.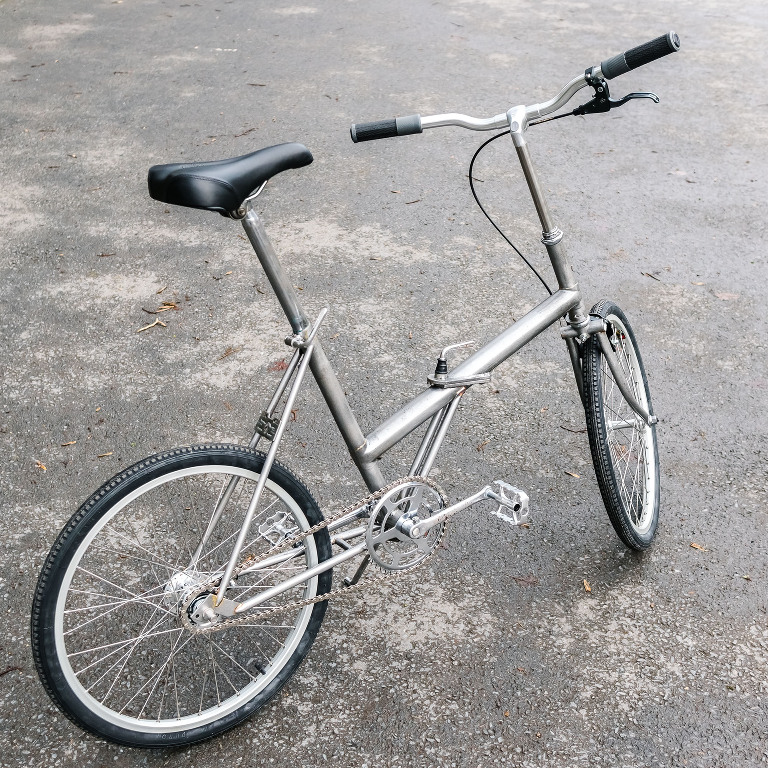 The CR18 with its Bead Seat Diameter of 451mm is my default choice for Raleigh Twenty/Shopper wheels. And I almost always opt for a coaster brake on the rear. Going this route gives a front brake drop in the 60mm region (perfectly acceptable) and the substitution of a coaster hub avoids the crazy 80mm+ drop at the back. It solves one of the most common issues that arises from repurposing these dinky vintage Raleighs.
Excitingly, this little bike is destined to roll the streets of Singapore later in the year.
•
Component Selection For A Bikepacking Wheelset
Edel's brief for her new wheelset was a mix of general road use with some bikepacking/light touring thrown in for good measure. Tubeless tyre compatibility wasn't important and rim brakes would be the stoppers of choice. She'd be running 25 or 28c tyres. And build weight wasn't too much of a concern.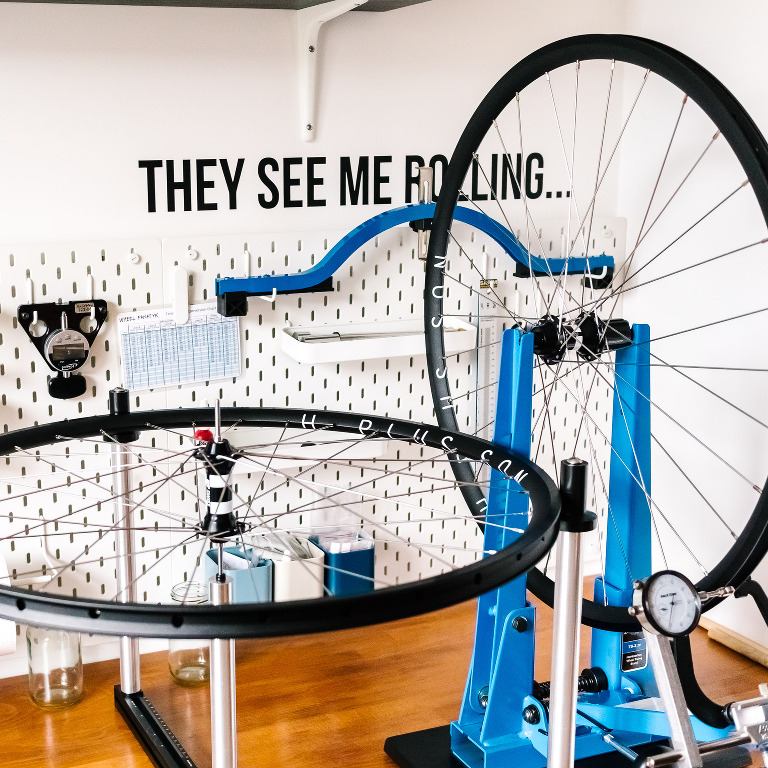 As I mentioned last month, DT's 350 hubs and H Plus Son's Archetype rims were the first to mind based on the above requirements. DT 350 hubs are supremely reliable and easy to maintain, which are important factors when touring. Archetype rims have a 17.5mm internal width and their profile aids in building a stiff wheel that can handle a loaded bike. They also have a thick spoke bed and can tolerate high DS tensions, which is an important factor with the 350's geometry to ensure acceptable NDS tensions.
The spokes of choice were Sapim Races. 32 of them per wheel. The elasticity of the thinner centre section on double butted spokes helps with stress distribution, relieving the forces at the hub flange and nipple. It also aids in preventing lower tension spokes (such as NDS) from going slack during each wheel rotation. Sapim Force spokes were a consideration because of their heavier elbow gauge, but they probably would have been overkill in this case.
Spoke count selection is a huge topic and one I'll write a dedicated blog post on.
•
A Positive Step With Plastic Packaging
Not specifically wheel-related but I was pleased to see a shift from plastic packaging with this new Shimano Ultegra cassette. The overuse of plastic on bike components has been a sore point of mine for many years and I'm glad there's finally movement in the right direction.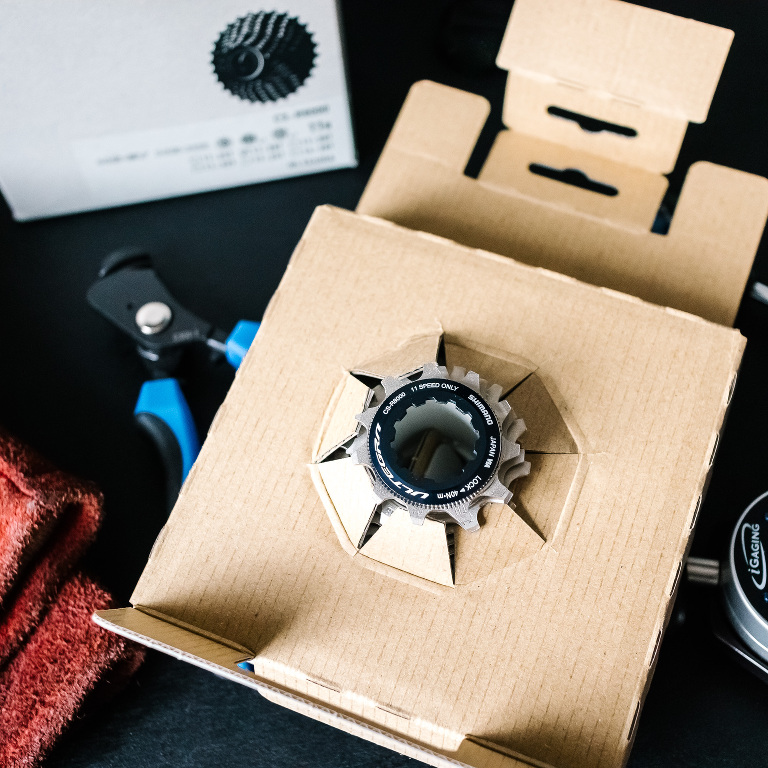 There's so much more to do but every little really does help.
•
Carbon Clincher Rebuild On A DT Swiss 240 EXP Hub
I mentioned this build in last month's round-up and here it is fully laced up and tensioned.
Unfortunately I don't know the details for the rim – it's an in-house brand from a custom builder based on the mainland. It built very well on the 240 EXP hub, with good NDS tension and tight lateral/radial trueness. Sapim's double square alloy nipples in silver gave a nice visual contrast from a fully black build.
The next time it'll be used in anger will be in the hills of Mallorca this spring.
•
A Visit To Owen At Donard
Owen at Donard.cc on the Ards peninsula is the only professional custom frame builder (as far as I'm aware) in Northern Ireland. His signature Donard branding is recognisable across the whole island and one of his steel frames features on the dream build list of many Irish cyclists, including mine.
I popped over to his workshop on an overcast day in January with a box of vegan cookies and a camera to finally put a face to the name.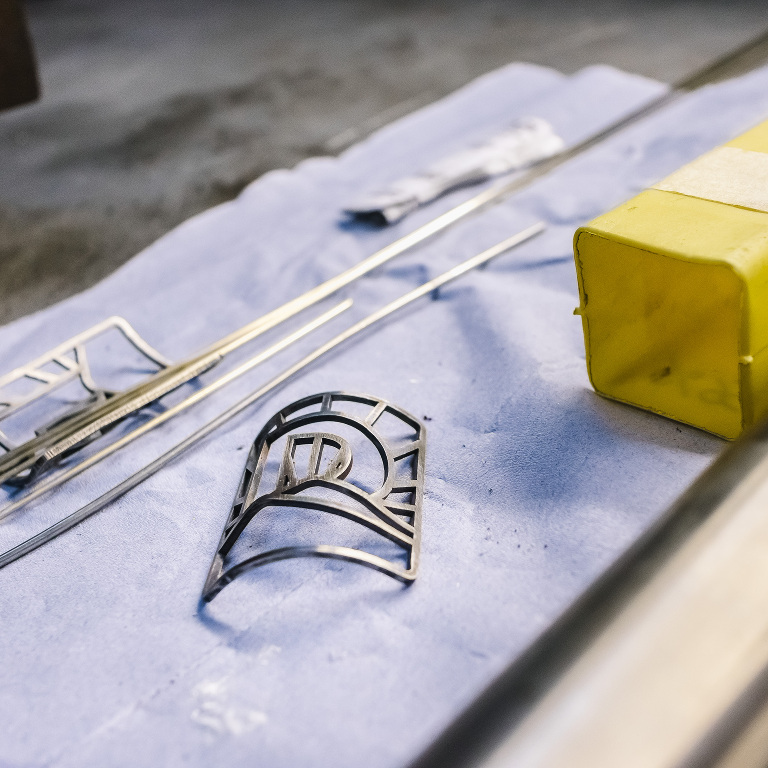 The famous headbadge in all its glory. Silver brazed on the front of every custom Donard, it's a finishing touch that really sets off each hand-built frame and ties it to our landscape.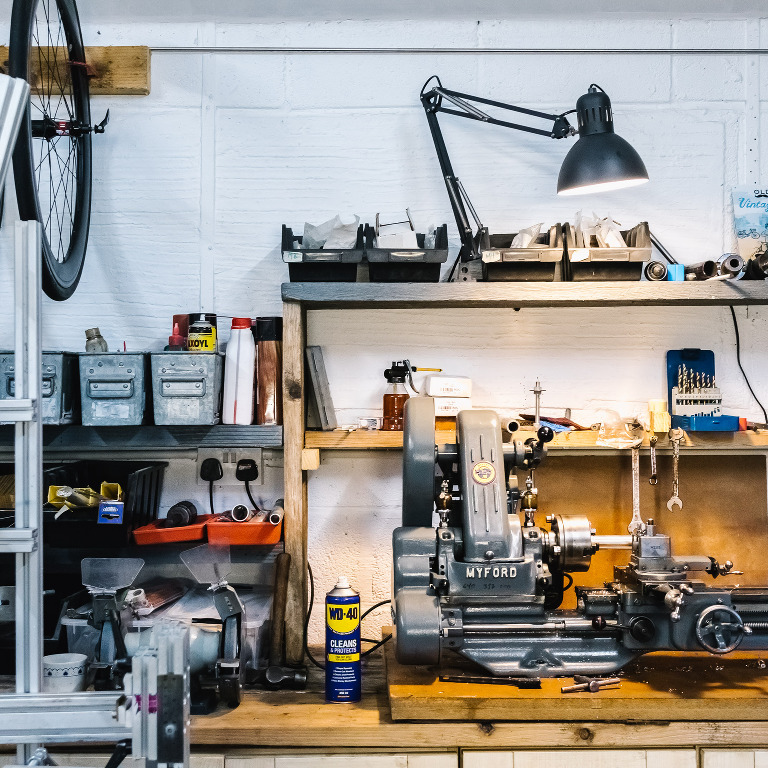 It's a true working workshop. Tools everywhere, each one with its own story.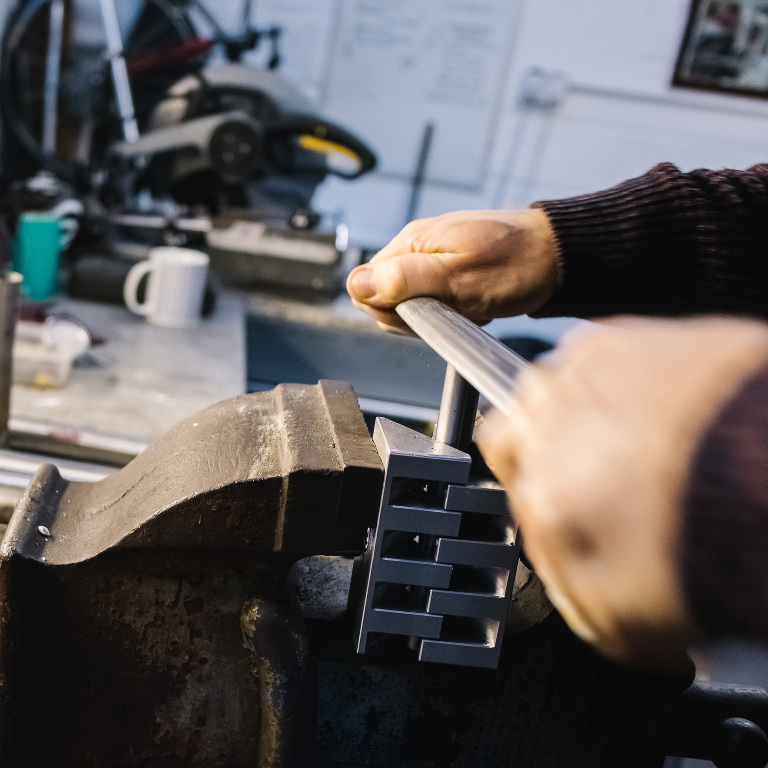 Watching Owen quickly miter a tube by hand was a pleasure in itself. It was purely a brief demonstration for the camera but fully ASMR-inducing nonetheless.
I have plans to visit again later in the year when the light's better to get a proper series of photos, maybe even with his brazing or TIG welding in full flow on a frame. I'll probably shoot some of it on B&W film too.
Go check him out – his frames are the real deal.
•
Random News
• Cheryl and I were lucky enough to attend our first ever Six Nations game in Dublin at the start of the month. A few pints of Guinness and a resounding win in the championship opener all went down a real treat. Beautiful city too.
• Lap The Lough entries are now open for this year's event on the 28th August. It's always a highlight in the calendar for local cycling and should be back to full strength for 2022. Check it out here.
• I have the very early days of my online shop up and running, which you can visit here. Stock levels are limited so far but that will continue to improve as the weeks and months roll on.
• Hub servicing and bearing replacements have been coming thick and fast all month, and this looks set to continue throughout March. Drop your wheels out of your bike(s) and give the axles a spin in your fingers. If they feel rough, hit me up before the year kicks off in earnest.
• The evenings are getting brighter and the sun finally has some heat in it. It's all looking good from here.