New for 2022, here's a collection of updates from the workshop for the month of January.
Changes to the business for 2022
A Hiatus From Bike Servicing
The pandemic brought with it real highs and lows in the cycling industry. A sharp increase in demand for bikes in 2020 quickly turned into a worldwide parts shortage in 2021 as factories failed to catch up with those lost lockdown months.
Unfortunately this shortage is still kicking ass and taking names as we move into this year.
Repair workshop staples are thin on the ground, with many simply unavailable to buy from the distributors. This issue is exacerbated by the overwhelming number of standards on modern bikes, which makes it very difficult to cover stock for all eventualities.
And so, for the opening few months of 2022 at least, I'm suspending all general service and repair work on bikes to focus my time elsewhere in the business… which leads me onto wheels.
(Note: Existing service bookings are all good, no worries there)
Wheels Are My Jam
A more specialist dedication to wheelbuilding and hub servicing etc. has been on the cards for some time now, and this year feels like the perfect opportunity to make it happen.
Not only will this lead to decreased turnaround times for new wheelsets and any wheel-related repairs (good for my customers), it will bring with it a healthier work-life balance and more flexible schedule (good for me).
Whether it's hand-built wheels matched to your spec. and riding style, hub bearing services, broken spoke replacements or custom cut spokes and wheelbuilding tools for your own build efforts, hit me up.
The Social Dilemma
Towards the end of 2021 I began to pay close attention to my social media screen time and how it was helping or hindering the business on a day-to-day basis. It was a real eye-opener.
Let's take Instagram as a good example. What I always believed to be fairly moderate use was actually over 9 hours every week. An entire working day lost just mindlessly scrolling, liking, overusing laughing emojis, replying to direct messages, feeling anxious and being bombarded with ads. Even half of that would be too much.
Add to that the time spent on Facebook Business (I don't have personal FB) and WhatsApp and it's clear to see why a change was needed for the new year.
And that's really why you're reading this post. Instead of posting semi-regularly each week on Insta and FB, I intend to save the main updates and news for the blog at the end of every month, along with a photo dump of sorts on the social feeds.
Everything else throughout the month will go on Stories, mainly because they're much faster to post and don't come with the horrible like count that seems to govern self-esteem.
It's an experiment, but one that I believe will really help.
Let's get started.
•
Edel's Light Touring and General Use Wheelset
It's always an honour when a fellow bike mechanic asks for your help. Edel's a full-time wrench down in Limerick and was in need of a durable, reliable and stiff set of wheels to pair with her very own hand-built road frame.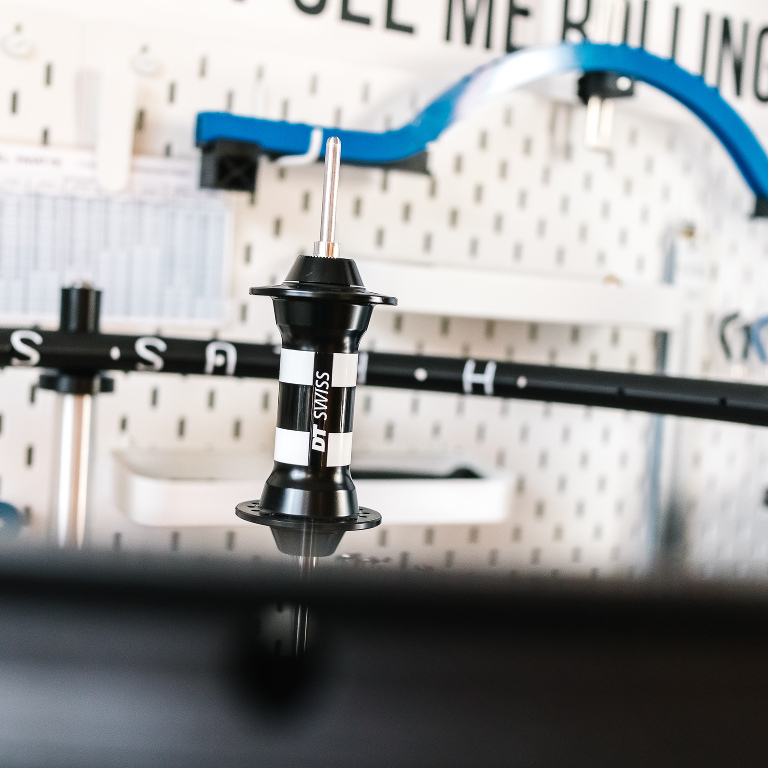 DT Swiss 350 hubs were an obvious choice, as were the H Plus Son Archetype rims.
I'll post more details on the build and the reasoning behind those choices in next month's update.
•
DT Swiss Gravel Rims Arrived In
A fresh order of DT Swiss rims, including the superb GR 531 shown here, was delivered at the tail end of last year.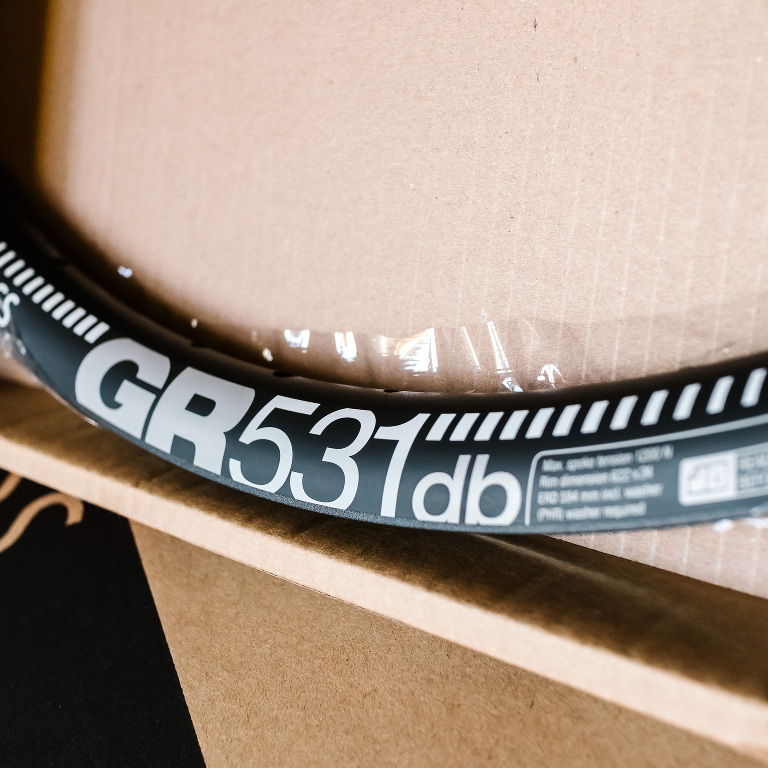 This rim is my first choice for customers needing a reliable gravel build. The 24mm internal width opens up a world of possibilities with tyre choice for off-road adventures and the profile with 25mm depth builds into a stiff wheel.
I currently have a pair in 28h laced to Bitex's BX106 centre lock (100 x 12 / 142 x 12) hubs patiently waiting for their time in the stand for final tensioning.
•
Factory Wheel Cracked Rim Replacement
A rebuild of this 2019 Hunt 4 Season rear wheel left the workshop near the end of last year. It was booked in for a rim replacement after 14 of the 24 spoke holes on the original rim cracked/failed.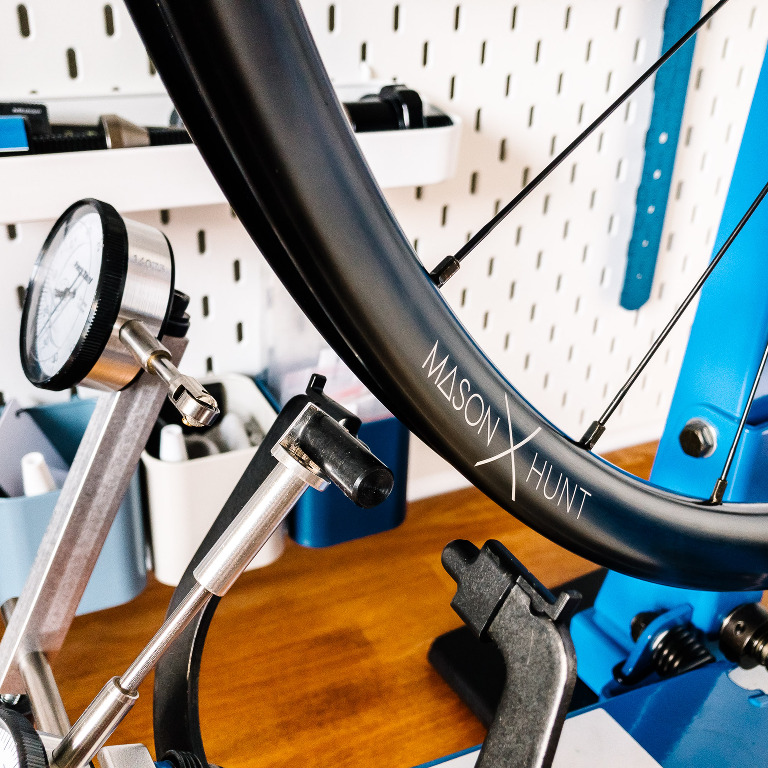 I rebuilt to a drive side tension of 120 kgf (recommended rim limit of 125 kgf) and balanced within ± 5% to help mitigate further issues. Asymmetric profile so the non-drive tension was actually still good at that.
I'm happy to report it's still running great and the customer has booked in another two wheels for February.
As is always the case with wheels, build quality is key.
•
Emerald Green Bitex RAF12/RAR12 Road Hubs
How beautiful are these emerald green Bitex road hubs?! They're the perfect colour for a bike rolling on Irish roads.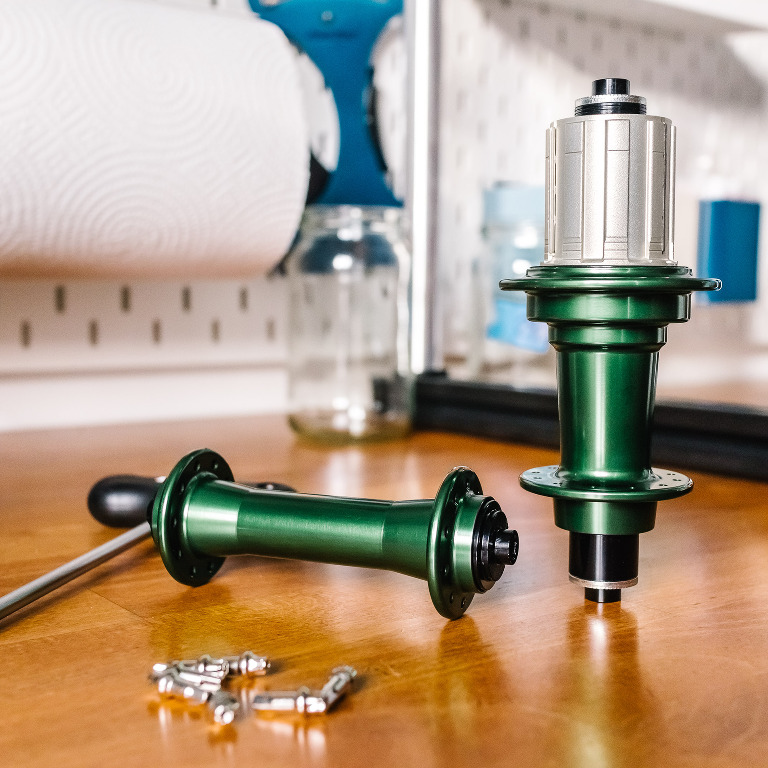 This particular pair in 20h front/24h rear is due to be laced to DT Swiss RR 411 rims with matching green Sapim alloy nipples.
•
Shimano Premium Dura-Ace Grease
Shimano's premium grease is the stuff of dreams – I love it.
If you're ever buying a tub for your own loose ball hub services, the 50g option should last you a very long time.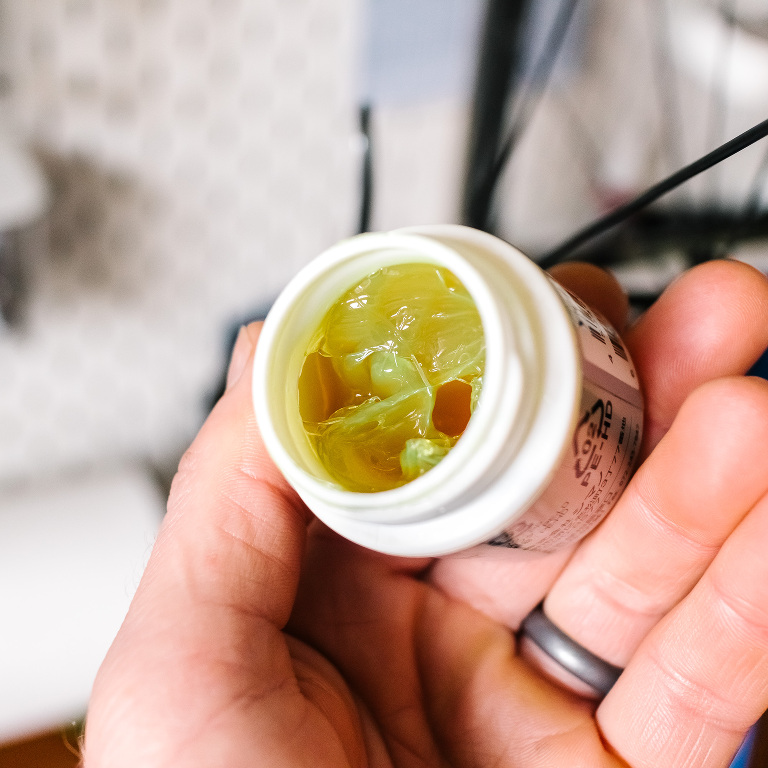 This fresh tub was needed for a service on a customer's Dura-Ace front hub. The rear was also booked in at the same time, however an issue with the freehub and lack of available replacements from Shimano meant a wheel rebuild with a new hub instead (shown below). I really like Shimano's "digital bearing adjustment system" but the freehub serviceability and difficulty in finding spares both need to be addressed. As it stands, I struggle to recommend them for custom wheels.
•
Carbon Wheel Rebuild
As mentioned above, this build with DT's truly superb 240 EXP hub was needed after a freehub body issue on the wheel's original Dura-Ace 9000 hub.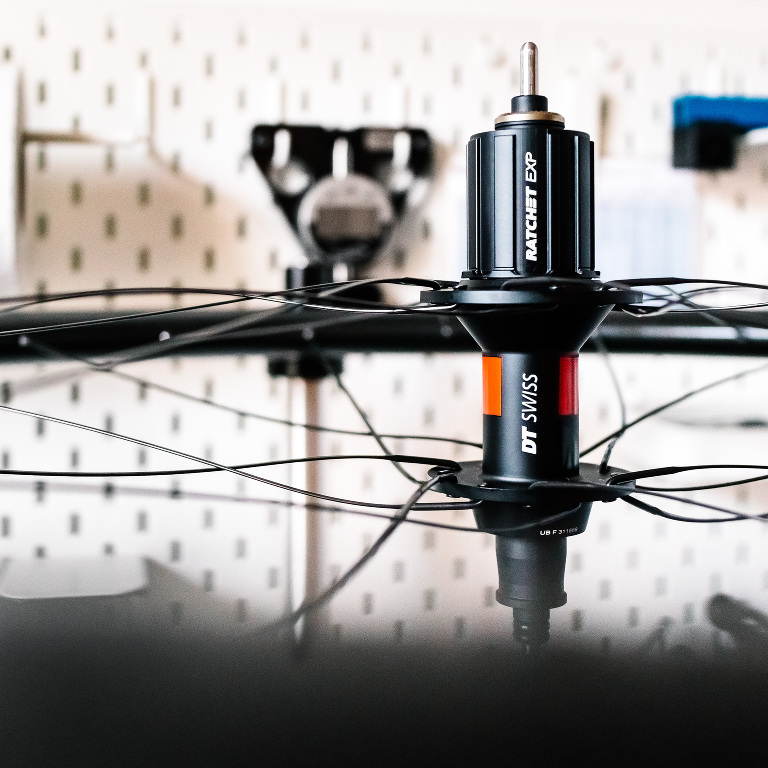 Simple servicing is one of the highlights of DT Swiss hubs and it's why they're my go-to when customer budget allows. I love everything about the company in all honesty, they really appeal to the engineer in me.
The Noble Lacing Jig shown here continues to make life easier in the workshop, especially when building wheels with Sapim CX-Rays. These spokes are so laterally flexible that lacing with them freehand can be a floppy nightmare, but no more.
•
Rory's Bitex on DT Swiss Road Build
Rory's the owner of a gorgeous Irish-built Donard frame and needed a pair of wheels for it and another bike build he has in the pipeline. A reasonably light wheelset for a lighter rider.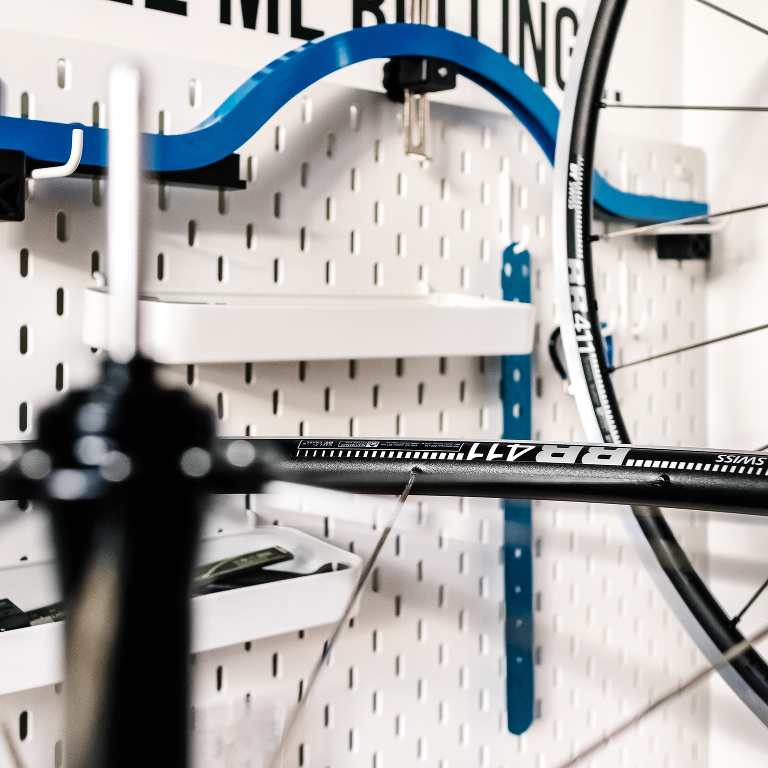 You can check out more details of the build here
•
Random News
• As I type, the most eagerly anticipated machine purchase of my life is on its way to the workshop. Its arrival will be an absolute game changer for the business.
• With a hiatus from bike servicing comes a hiatus from my collection and delivery service in the area (this may be permanent).
• Vancouver marathon training is a little up in the air at the moment following a fairly significant achilles injury. It sucks. I was happily cruising along on a steady 5min/k pace on a Sunday long run until a sudden flash of pain stopped me dead. Queue a 6k limp home in tiny shorts. We'll see.
• I read the following in a newsletter from Hannah Dorman at Wild Earth Studio recently and it's sticking with me for the rest of this year – "I have been allowing myself to stop rushing, to take moments to pause and feel into not so much what I want to do this year… but how I want to be. When I give my precious time to doing something, I am starting to ask myself; will this bring me closer to how I want to be?"