So far this summer has been a perfect balance of enjoyable wheel builds and enjoyable time out on the roads, both running and cycling. Here's hoping that continues.
Let's check some highlights from the bench.
AM Bike Co. Turns 5
The 1st of this month marked 5 years in business. A milestone worth celebrating for sure.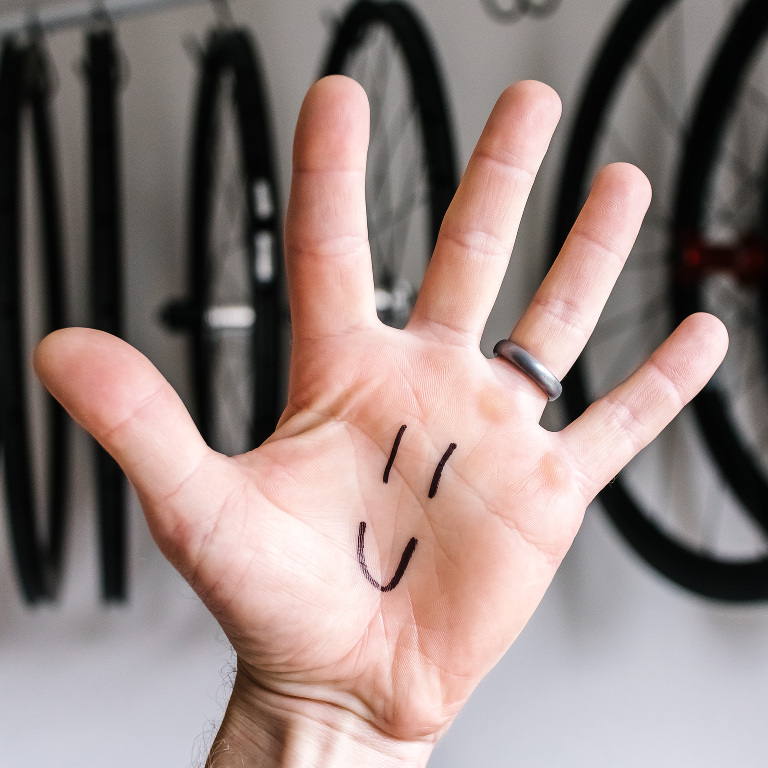 I am very grateful for the support shown by my customers and friends, from all over this island, over the last 5 years. It has never been and never will be taken for granted.
Here's to the next 5, wherever they may lead.
•
Deep Carbon – Venn Var 507 TCC Road Rim
Similar to many components in the industry, the 507 TCC road brake rims from Venn have been like hen's teeth over the last year. Thankfully the UK distributor managed to pull through with a pair for Peter's new wheelset earlier this month though.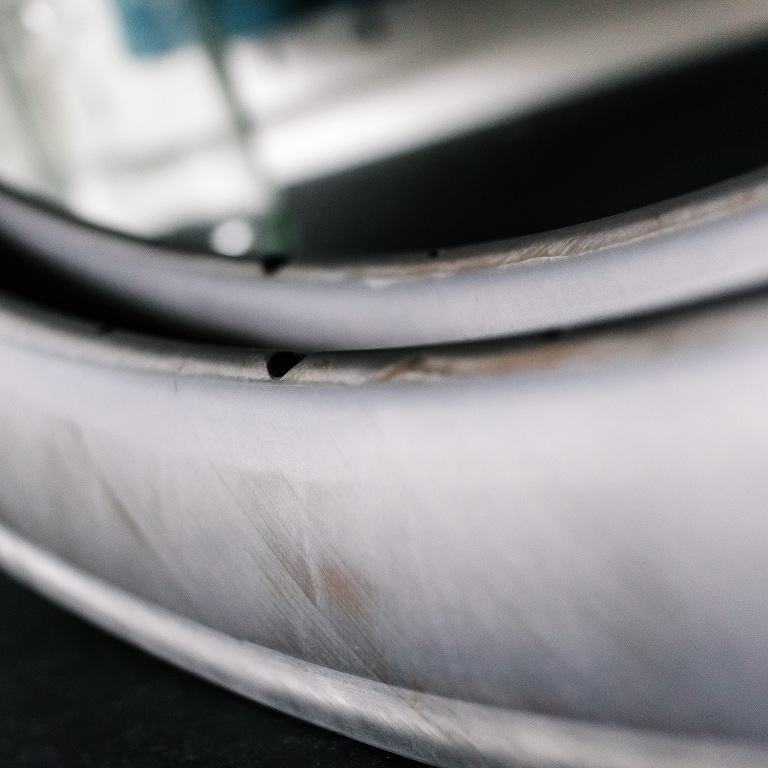 The 507s are extremely strong and stiff rims with superb aero performance. They're stable in crosswinds too. At a shade below £400 per rim RRP, they are a great choice for a high performance road wheelset.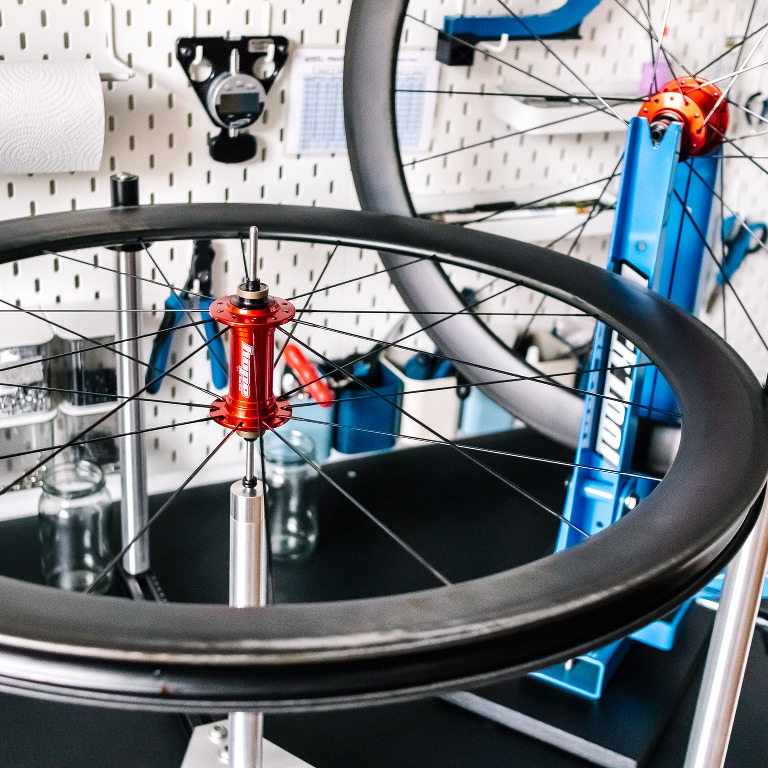 On Peter's build I laced his existing (almost new) Hope RS4 hubs in red to the 507s with Sapim CX-Ray spokes on the front and CX-Sprint spokes on the rear for added stiffness under power.
•
Neil's 29er Mountain Bike Rear Wheel Replacement
When Neil got in touch for a super strong rear wheel to replace the original on his Trek Marlin 7, I defaulted to the DT Swiss EX 471 in 32 hole once again. I'm sure it's really obvious by now that I love building with this rim.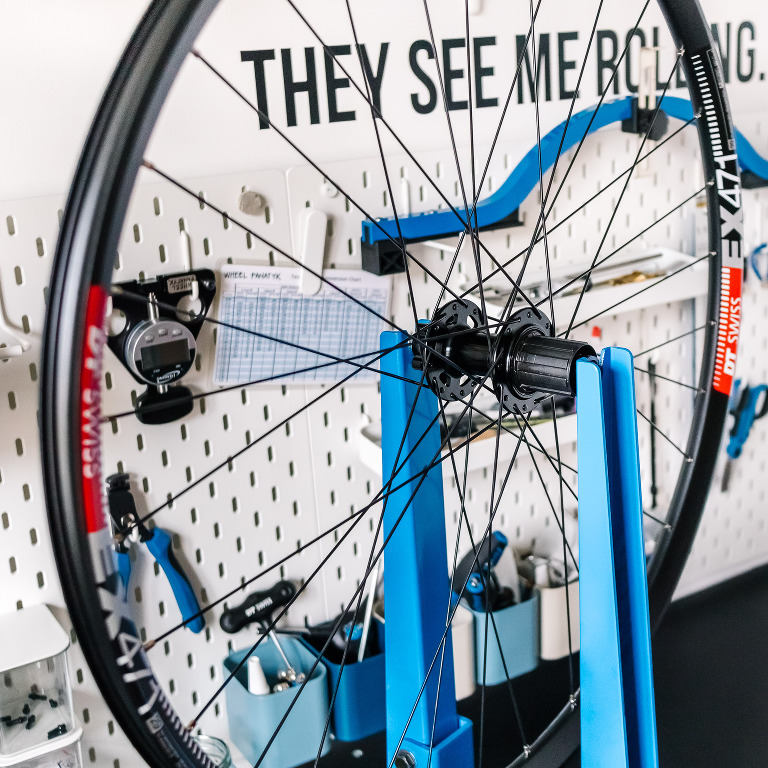 The hub choice was fairly simple too. It had to use a 135mm quick release axle, run on sealed bearings and accept a 6-bolt rotor. And preferably be black. Bitex's MTR12 rear with an upgraded steel freehub body and axle matched these needs perfectly, at a great price point.
•
Hope Wheels Tech XC Rim Replacement
Michael dropped in his Hope Pro 4 rear hub for a rebuild following a total rim failure on the original Tech XC wheel. After a quick clean it was in the Noble Lacing Jig and ready for a new life.
Hope's anodised colour finishes are famous in the industry and this purple is probably my favourite in the range.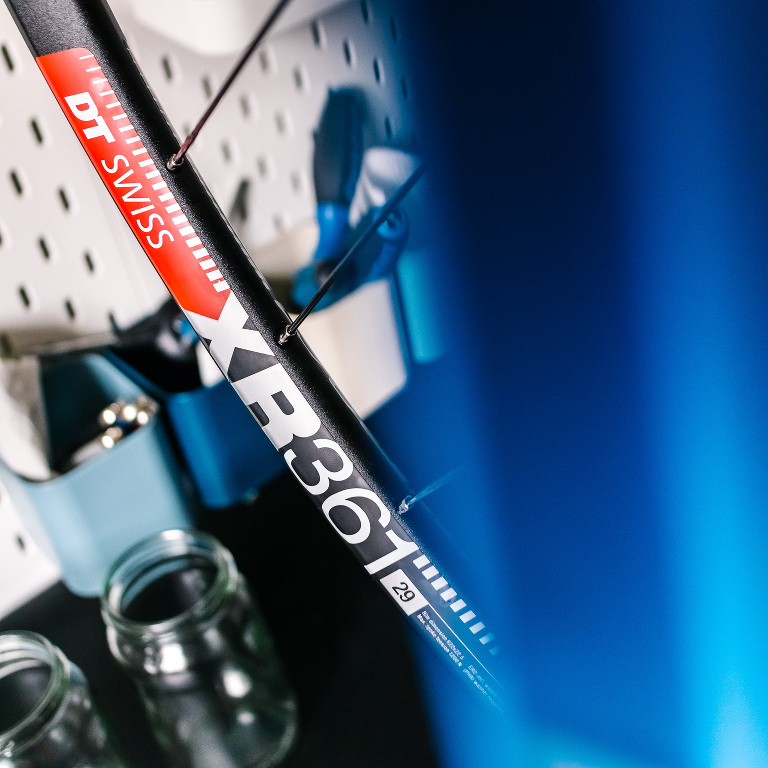 The DT Swiss XR 361, with its light weight, asymmetric profile and 22.5mm inner width, made an ideal replacement. A great rim choice for gravel/XC MTB duties.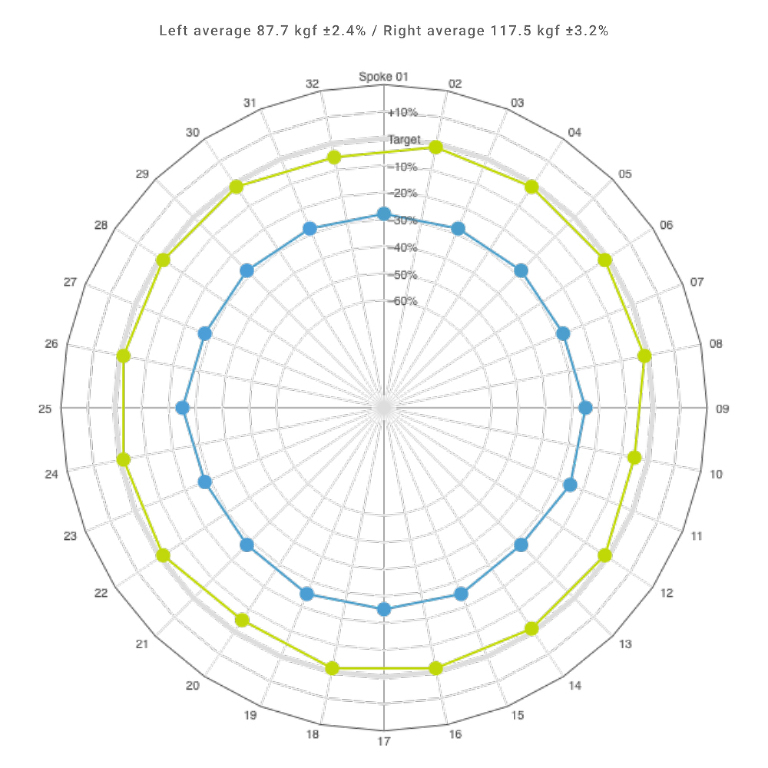 Asymmetric rims make a huge difference to the tension balance on both rear wheels and front disc wheels. Being able to stay well within the rim's recommended max. tension of 123kgf on the DS and still achieve 87.7kgf on the NDS is a wheel builder's dream.
•
Hub Service – Mavic Cosmic Pro Carbon
Gabriel left in his Mavic Cosmic Pro Carbon wheelset for a bearing overhaul following a couple of years on the bike with no love. Seized end caps and a damaged freehub body all added to the woes on a normally straightforward hub service. All good now though.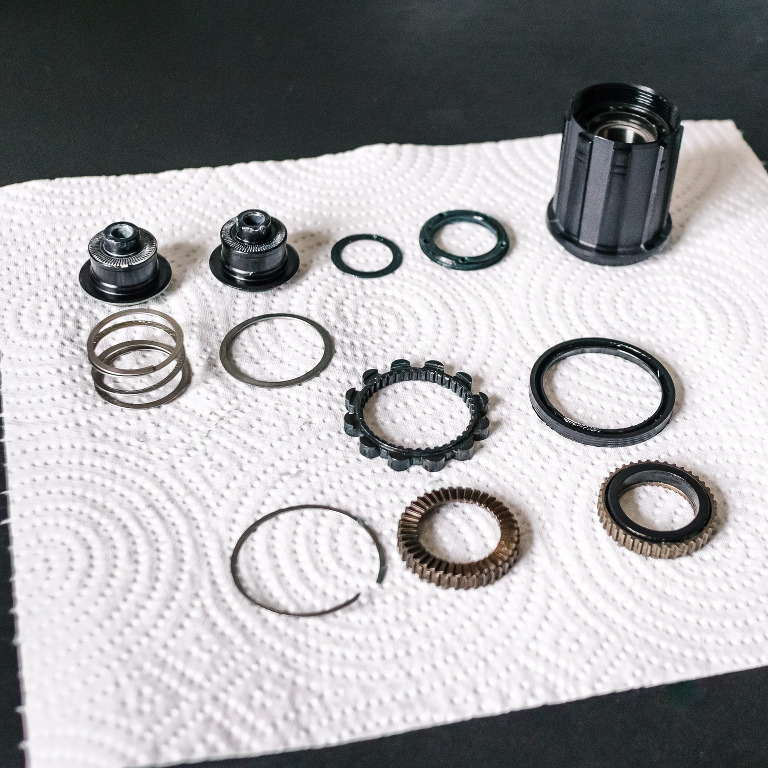 The hub's internals fresh from the ultrasonic cleaner and the new freehub body all ready for reassembly.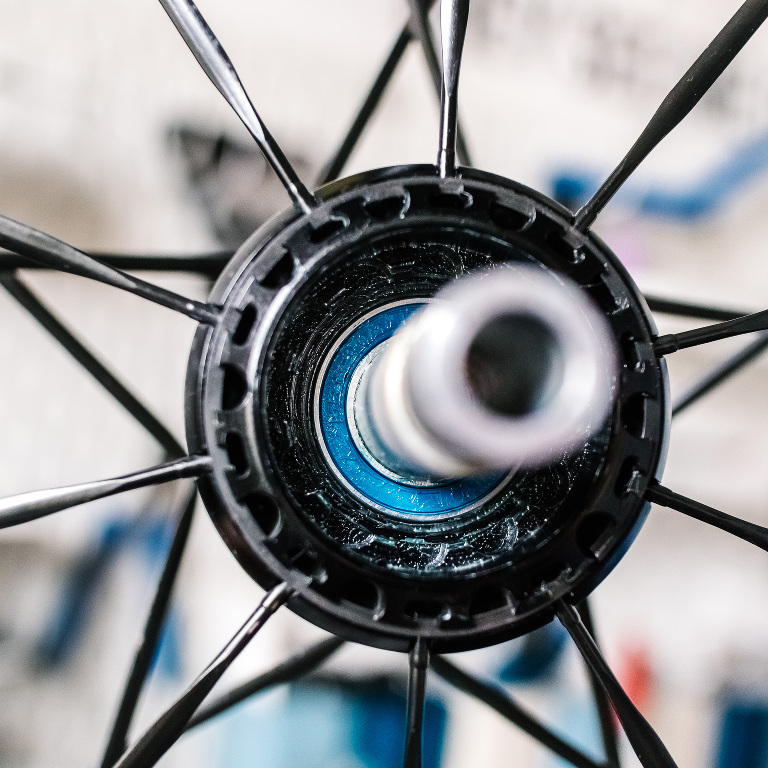 Enduro LLB bearings are my go-to for hub servicing due to their great performance vs. reasonable cost.
•
General Purpose Road Wheelset
Sam reached out for help following a string of spoke breakages on a used road bike he'd bought over lockdown. With the bike's wheels in really poor shape in general, it was decided that building a replacement set was the best route to take instead of throwing good money after bad on repairs.
The aim for his new build was a sensibly priced general purpose rim brake wheelset that could comfortably run 28c – 32c tyres and essentially be fit-and-forget. Bitex's RAF/RAR12 sealed bearing road hubs and DCR 23mm deep rims (asymmetric rear) ticked all these boxes and more. And since weight didn't really matter to Sam, 32 spokes front and rear for peace of mind made total sense.
The end result was a very dependable, surprisingly light and really well priced road wheelset.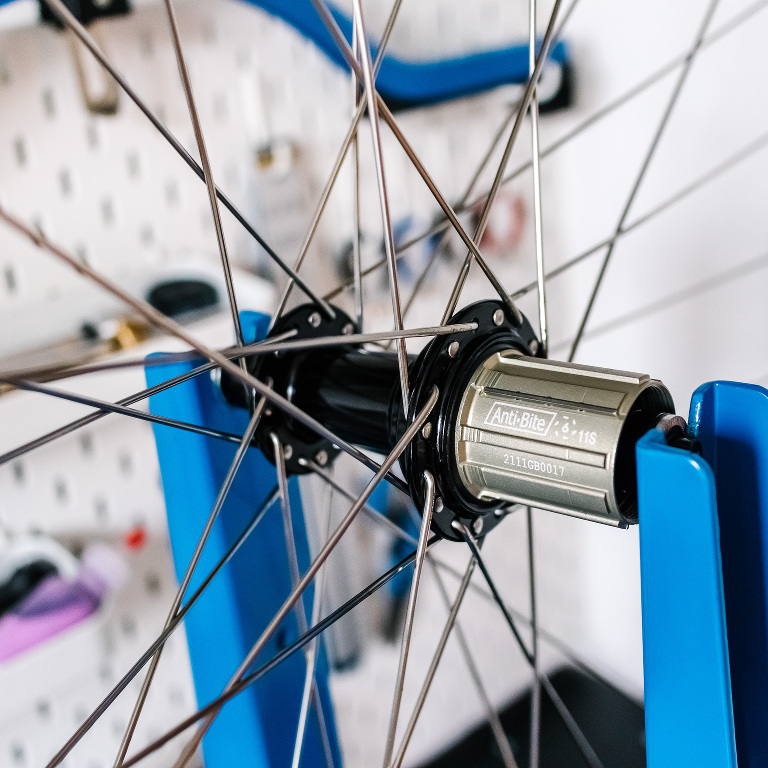 A great feature on Bitex's alloy freehub bodies is the addition of anti-bite strips – 3 stainless steel inserts that limit cassette bite without increasing weight.
If you've ever had to wrestle a cassette from an old and corroded alloy freehub, you'll understand why these are so useful.
•
Random News
• The main news from this month is that Cheryl finally bought a gravel bike to explore the local countryside (and beyond) with me. We have a grand plan in the works for our 40th birthdays in a few years' time and this marks the first step on that journey. Very exciting.
• With his inspiring MTB Youtube channel and positive outlook on life, Ryan Van Duzer has been a firm favourite on our TV this month. If you need something to feed your wanderlust, check him out.
• Is anyone else heading to Bespoked in London this October? It's being held in the Lee Valley VeloPark for the first time and is set to be a fantastic celebration of hand-built bikes from across the world. I'm aiming to be there on the Saturday all being well.
• If you're interested in tackling a scenic gravel ride in the Sperrins, get in touch on this email (colin@ambikeco.com) and I'll pop through a GPX file from a recent outing. It's a 50km loop starting in Draperstown and takes in some stunning trails through Banagher forest. Well worth a trip.