It's been a chilled month in the workshop with the two week holiday right in the middle, meaning this update is a little shorter than usual. It'll be back to normal next month, I promise.
Current State Of Play
Wheels Are My Jam, Pt. 2
At the beginning of this year I made the decision to step back from general bike servicing and repairs to focus solely on wheels. Although this was partly due to the lack of availability of replacement parts, it was mostly driven by the desire to specialise in an area I really love.
I mentally marked the change for review after 6 months and I'm glad to say it's here to stay for the rest of 2022 and beyond. The overwhelmingly positive feedback from my wheel build customers has been motivation enough to continue down this road/gravel track/muddy trail and remain focused.
The Social Dilemma, Pt. 2
I've thoroughly enjoyed the break from social media over the last 6 months. But I also plan to start posting more regularly again.
Reader numbers for these Workshop Round-Up blog posts have been surprisingly high and I will continue posting them as normal at the end of each month. They're a good way to showcase highlights from the bench all in one place.
To appease the pesky social media algorithm and help even more followers see the info. moving forward though, I will most likely begin decanting these updates into individual social posts throughout each month as well. Apologies in advance if you see the same info. twice (here and on FB/Insta).
With that out of the way, let's talk wheels.
•
Wheelset For A Heavier Rider
Durability was high on John's list of requirements when he got in touch to discuss his new wheelset. As a 100kg+ rider he was running into endless issues with his bike's original low spoke count carbon wheels and had lost all faith. Broken spokes, persistent loss of tension and lots of flex plagued his riding.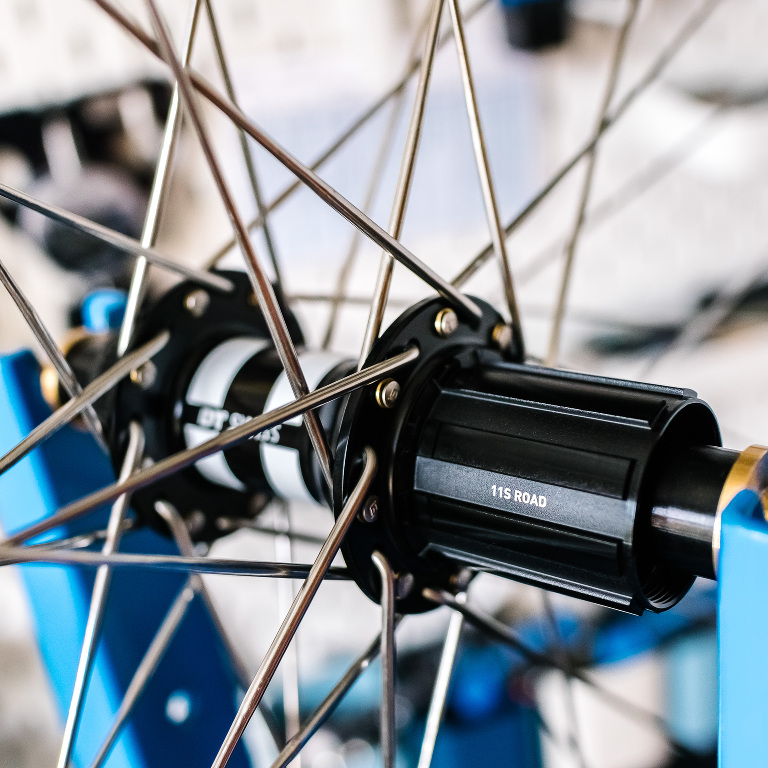 Cases like John's are where hand-built wheels from an experienced builder really shine. With careful selection of the hubs, rims and spokes to meet the rider's specific needs, almost all issues can be overcome.
With John's large build in mind, a high spoke count coupled with a few of my favourite DT Swiss components made perfect sense. 32mm deep semi-aero RR 521 rims to add stiffness and shrug off heavy loads. Their ever-reliable 350 hubs for years of fuss-free spinning. And triple butted Alpine III spokes, along with spoke head washers, to add fatigue resistance at the hub flange. A true Clydesdale build.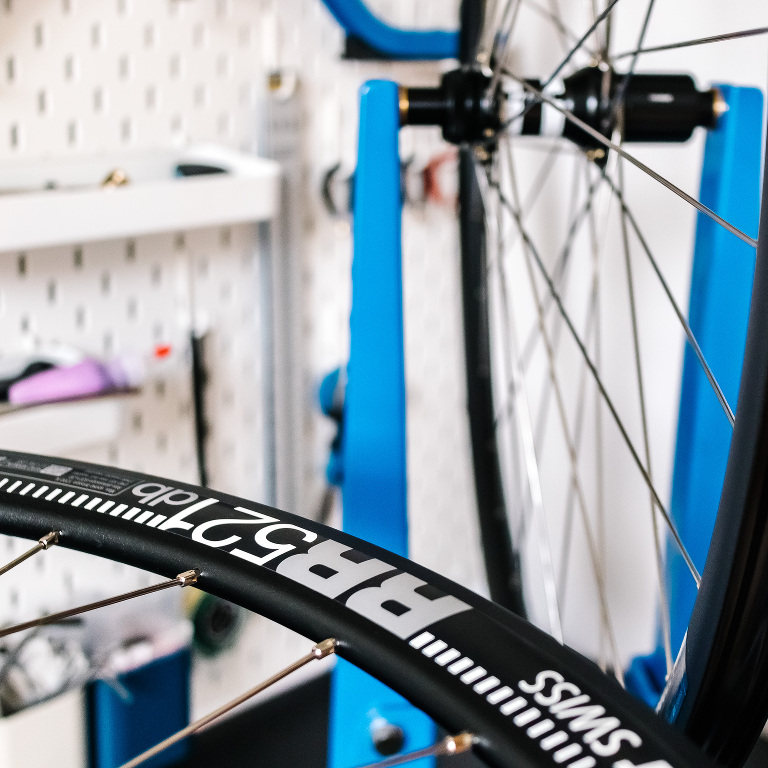 John drove all the way from Roscommon last month to collect his new wheels and over the holidays I received this WhatsApp message:
"Hi Colin, just dropping you a quick line. I now have over 1000kms on my wheels, they are absolutely super to ride. The confidence I now have cornering and descending is fantastic, a solid set of wheels with no flexing is just a joy to use. Keep up the good work."
I'll take that.
•
In Gravel We Trust – 26″ to 650b Conversion
I've professed my love for DT Swiss' excellent GR 531 gravel rim before and I'm going to do it again.
It's strong, stiff and reasonably light. It's wide internally and covers most off-road adventure bases in terms of tyre size. It happily runs tubeless and setup is almost always smooth sailing. And it really does look the bomb.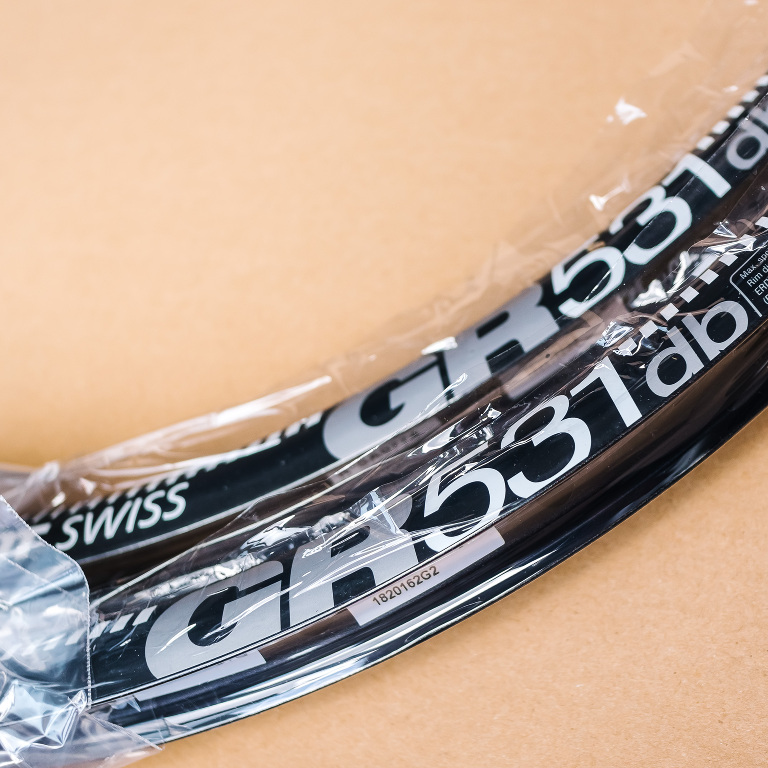 This pair arrived in this month for an interesting 26″ to 650b gravel bike conversion and will be laced to Bitex BX106 hubs with Competition spokes. 26″ wheels running 2.1″ tyres have a similar diameter to 650b wheels running 42mm tyres, meaning a rider can achieve lower rolling resistance for gravel without sacrificing their retro MTB's geometry.
•
DT Swiss P 1800 Spline Rear Wheel Service
One of my regular customers dropped in his P 1800 Spline rear wheel for a service following some questionable noises out on the road.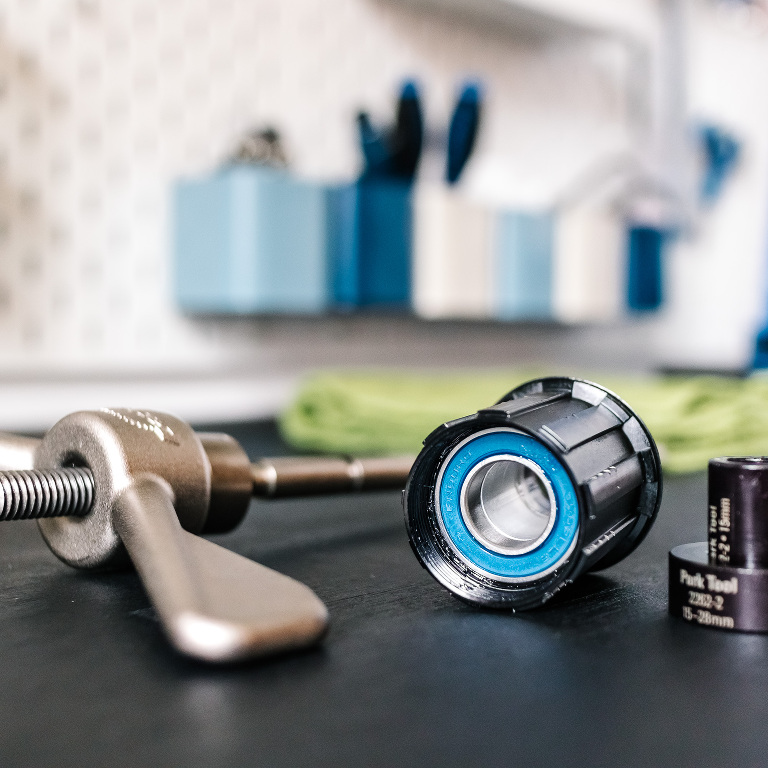 Thankfully it turned out to be the freehub bearings and nothing more, caused by some overenthusiastic use of a solvent spray when degreasing his drivetrain. The hub shell bearings had escaped its wrath.
Fresh Enduro 6902 and 6802 bearings pressed in and it was as good as new.
•
Morizumi Spoke Machine Has Been Busy
The Morizumi has certainly been earning its keep over the last few months. This Sapim Race order (the largest so far) left at the start of the holidays for a shop in Belfast.
My stock levels are still really good for DT and Sapim double butted options, with several thousand more currently on backorder.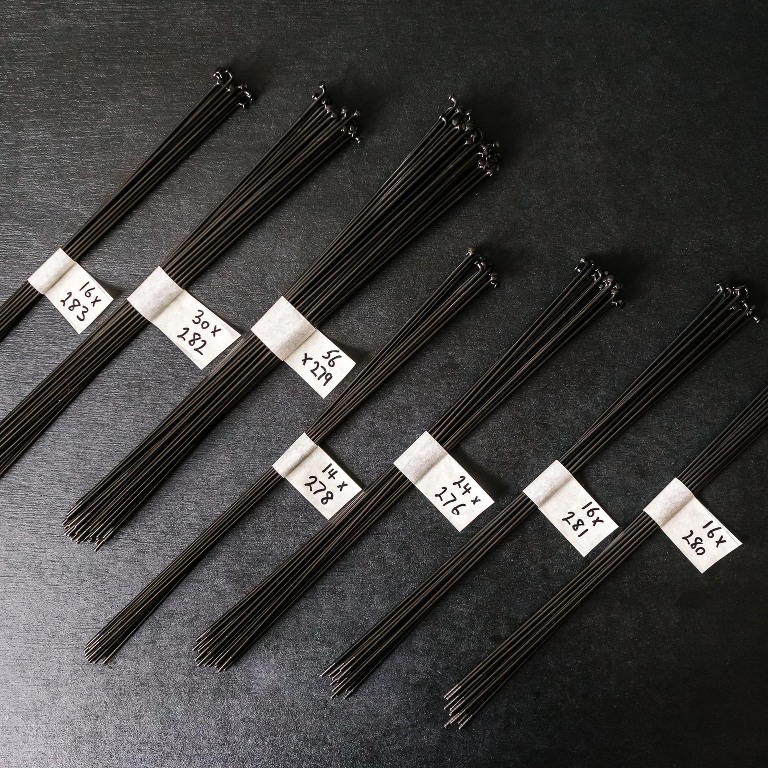 And remember, if you're a shop or workshop owner, trade accounts with discounts are very welcome for your own builds. Just hit me up.
•
Carbon Wheel Tension and Dish Correction
This almost new carbon rear wheel was left in recently after developing a wobble within a few rides. It was hand-built in England and the customer asked me to do the work instead of sending it back under warranty.
In cases like this, I always run a tensiometer over the wheel to establish a baseline for the work and produce a chart for reference. I've included both it and the final chart below.
Tension Chart – Before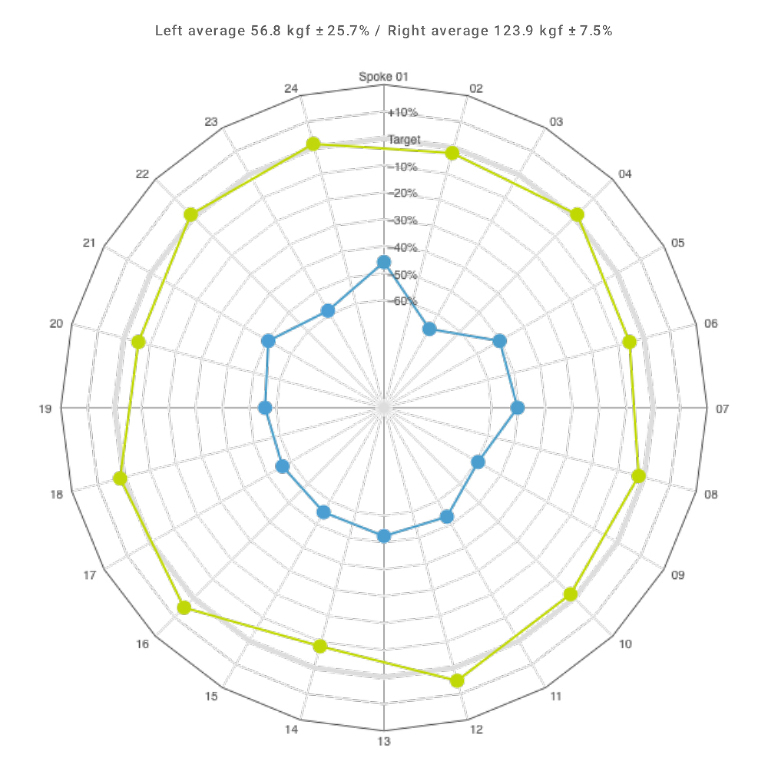 The 'before' tensions were quite damning. The drive side tensions were passable at ± 7.5% but the non-drive side tensions were a real mess. The wheel was also out of dish towards the DS. Imbalances as severe as this were only going to get much worse through cyclic loading, leading to a serious loss of true and fatigue failures in the spokes.
The only explanation for such a large imbalance on the NDS was a poor build. If I had to guess, I would say the wheel was quickly brought up to fairly even tension with a driver (explains the reasonable DS tensions) then the non-drive side spokes were used to true the wheel without worrying about balancing their tensions or checking dish. It's disappointing to see.
Tension Chart – After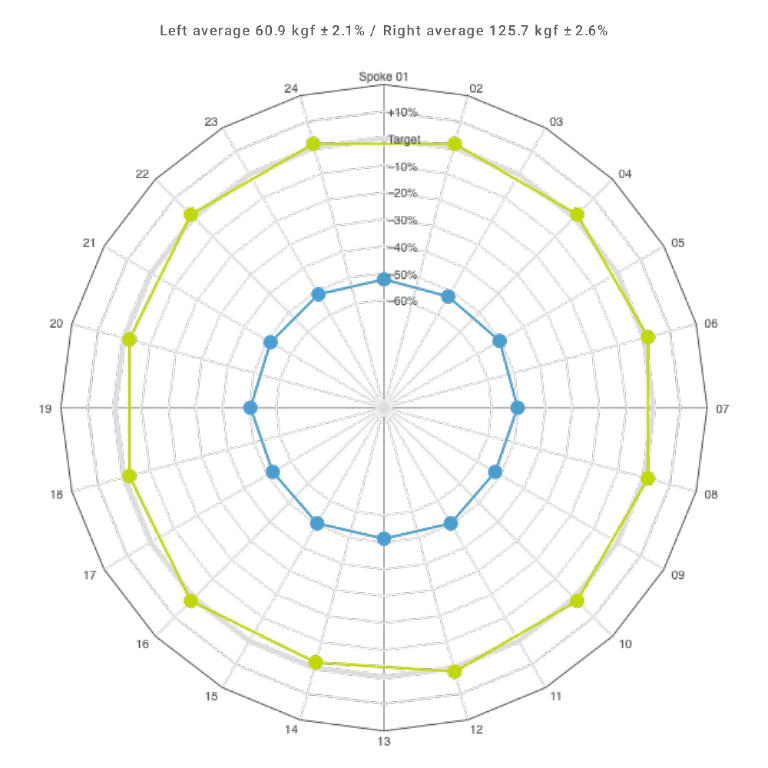 That's more like it.
•
Rebuilding Goldtec Track Hubs With New Rims
Matt lives in England and booked in his old track wheelset for a rebuild during a trip back home this month.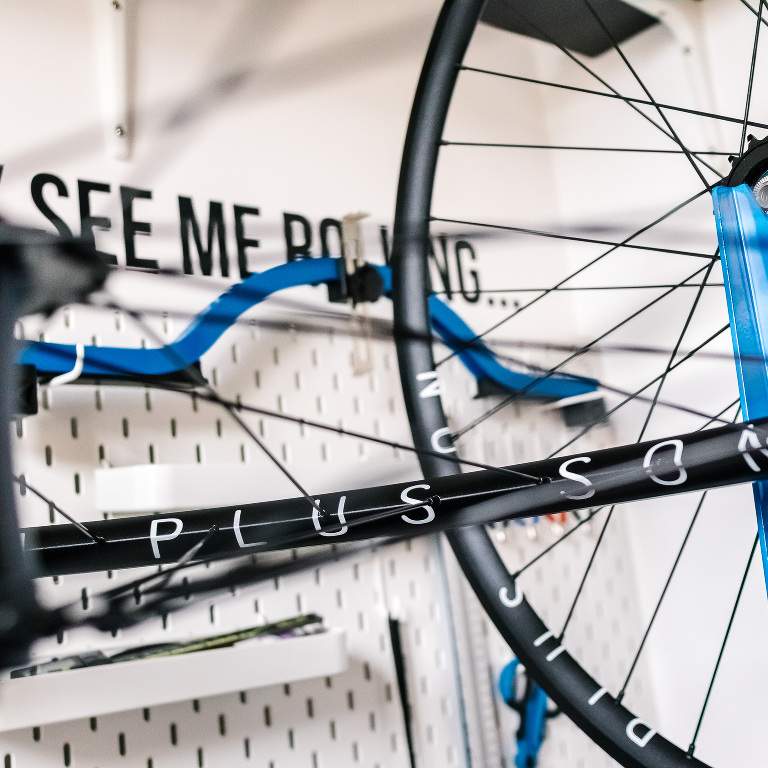 I really like to see riders asking for rebuilds on existing components instead of treating perfectly good parts as disposable. After a quick service with fresh Enduro bearings, these Goldtec hubs were a perfect base for the new H Plus Son Archetype rims.
A strong and dependable commuting wheelset for the streets of London.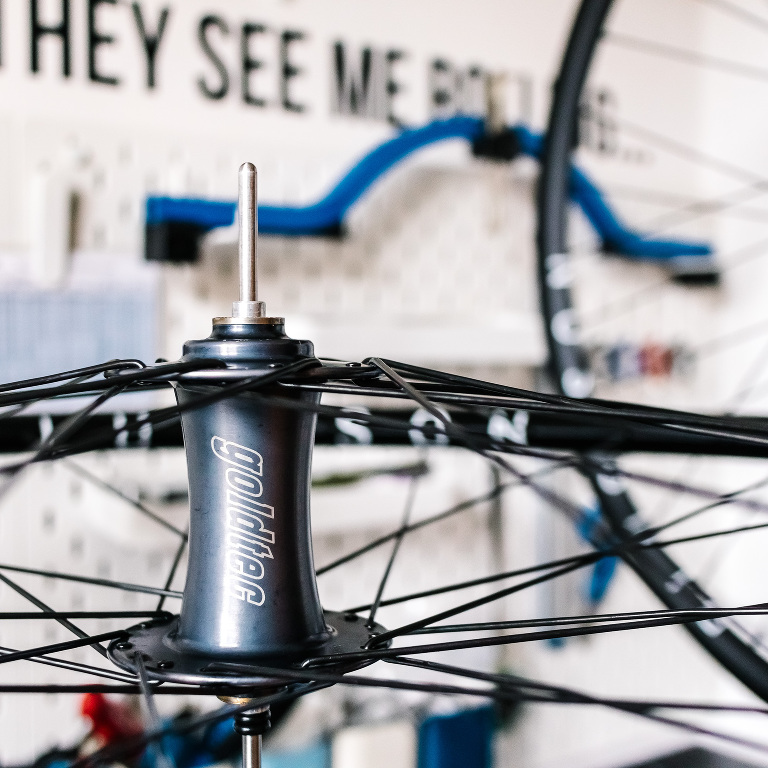 P.S. It wasn't just any trip home… he was getting married. Congratulations Matt!
•
Random News
• I finally went bikepacking this month (just one night!) to test some new camping gear in preparation for a few trips this summer. It was awesome.
• Quadlock is my new favourite accessory for the bike. When combined with Ride With GPS, it makes for a really slick navigation setup without the expense of a standalone unit.
• I'm racing a 10k this weekend as a litmus test for my sub-90 mins half marathon. Training has been going well and time predictions are showing 88 mins based on current fitness. This PB attempt has been dragging on for 6 years and I would really love to achieve it this year.