Bright evenings and dry trails… March has been a great month. Here's an update from the bench.
Nukeproof Horizon Wheelset Rebuild
A huge flat spot led to a rebuild of this Nukeproof Horizon wheelset with DT Swiss EX 511 rims in 29″ and Competition double butted spokes.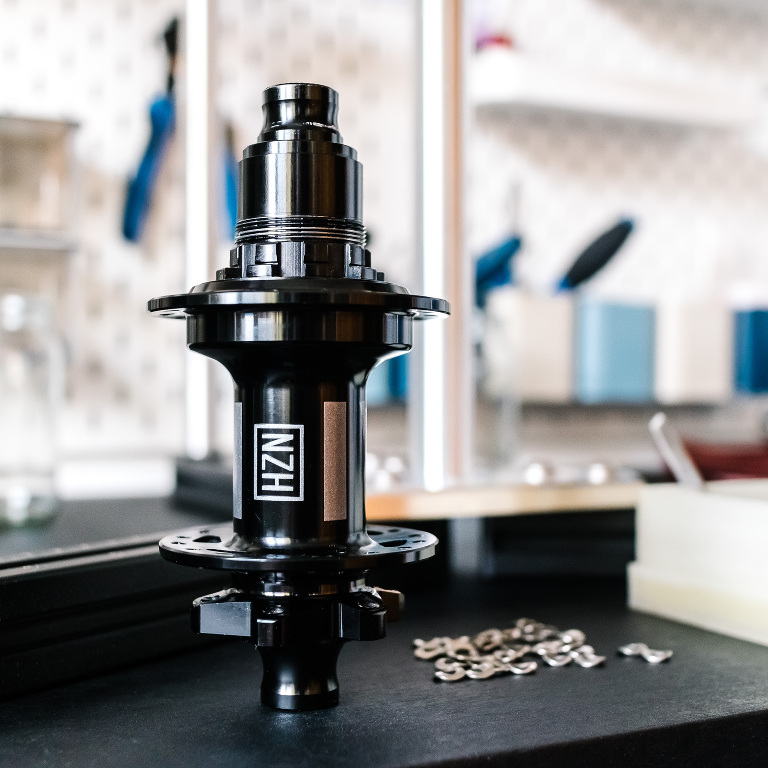 While I had the wheels stripped down, the rear hub was given a full overhaul with fresh Enduro bearings.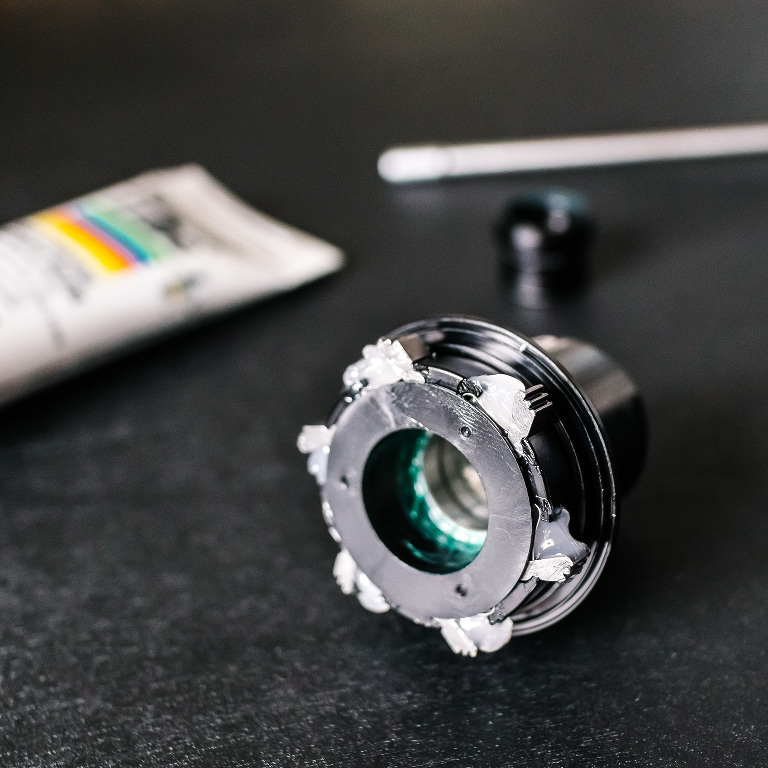 Part of the service on the rear hub involved replacing a cracked plastic pawl cover.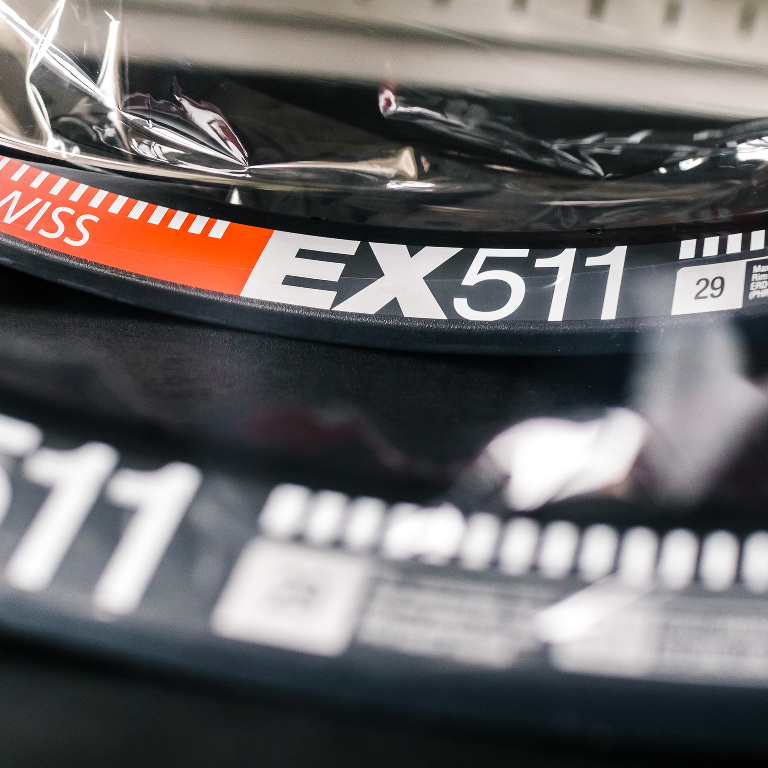 The DT Swiss EX 511 in all its 30mm internal glory. Killer rim for riders needing the extra width over the EX 471, especially on the front.
I'll post more details and background on the build next month.
•
Cannondale Ai – Tension Balance Comparison
I had a carbon wheel rebuild through the workshop this month with a hub replacement and dish change to work with a Cannondale Ai (Asymmetric Integration) frame.
I'm generally not a fan of proprietary standards within the bike industry. They complicate maintenance and repairs, make the sourcing of parts difficult and feed heavily into the planned obsolescence that leads to perfectly good parts ending up in landfill. None of this is good or sustainable.
With that said, Cannondale's Ai drivetrain spacing intrigues me, at least from a wheelbuilding perspective.
One of the main issues with modern rear wheels is the heavy dish required to make space for 11-speed (and higher) cassettes. This dish creates unequal bracing angles between the DS and NDS and in turn a large disparity in spoke tensions between them. Cannondale's Ai 6mm offset addresses this imbalance in much the same way as an asymmetric rim, but to a greater extent. Although the primary motivation behind the design relates to chainstay length, the improved tension balance in the rear wheel is a very positive side effect.
Why is this so important? Obtaining sufficient NDS tension on a rear wheel is a key factor in the wheelbuilding process and one that's vital for longevity. Higher average tension in the NDS spokes means less chance of them becoming slack during loading, dramatically decreasing both the risk of fatigue failures and loss of true from nipples loosening.
To achieve this NDS threshold on modern rear wheels, the drive side spoke tensions often need to be pulled quite high in comparison, which can have an impact on long-term health of the rim, DS hub flange and DS nipple/spoke thread interfaces. The compromise between the two is a fine line that experienced wheel builders learn to walk.
To demonstrate the benefits of the Cannondale system in tackling this imbalance, included below are two tension balance charts from recent builds on similar 142 x 12mm hubs with 700c/29″ rims. The improvement in the Ai wheel is clear.
Typical 142 x 12mm Disc Rear Wheel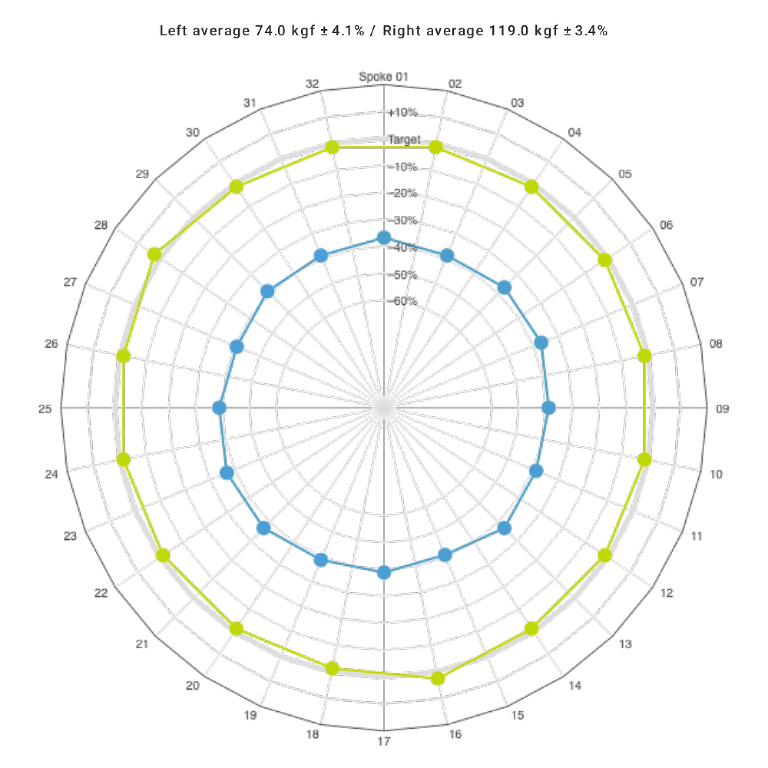 As you can see on this wheel, the average non-drive side tension fell close to 62% of the drive side tension with correct dishing. Although 74kgf on NDS spokes is considered satisfactory, the DS had to be pushed close to the rim's absolute limit of 120kgf to achieve it here.
Cannondale Ai Spacing Rear Wheel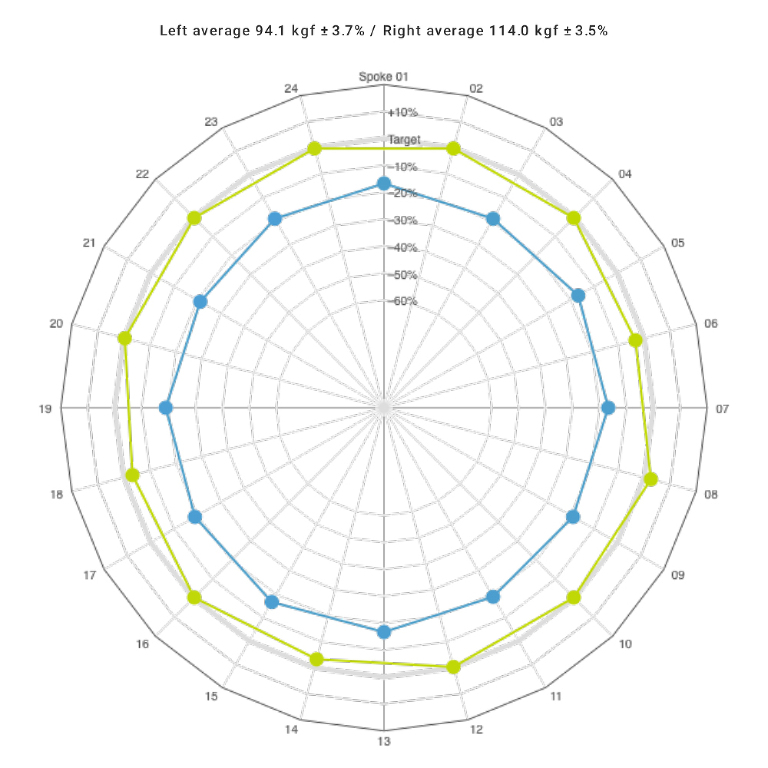 The 6mm offset for the rim towards the non-drive side created similar bracing angles and a much improved tension balance here – approx. 83%. This allowed for higher NDS and lower DS average tensions, leading to a more durable and stable wheel. A better result all round.
In my opinion, hub geometry/spacing is long overdue an overhaul. For the past couple of decades we've been cramming more and more gears plus disc brakes into basically the same space and hoping for the best. The Boost spacing found on most modern MTBs and some gravel/adventure bikes has helped to address the issue to an extent but it's still not perfect.
As wheelbuilders and consumers, we can only hope the industry as a whole rallies together and creates a standard to address the issue that actually becomes… standard. We really don't need a repeat of the bottom bracket situation.
•
Two Month Feedback On Pete's Lightweight XC Wheelset
I reached out to Peter for a brief review of his new XC wheelset after living with it for a couple of months on the trails.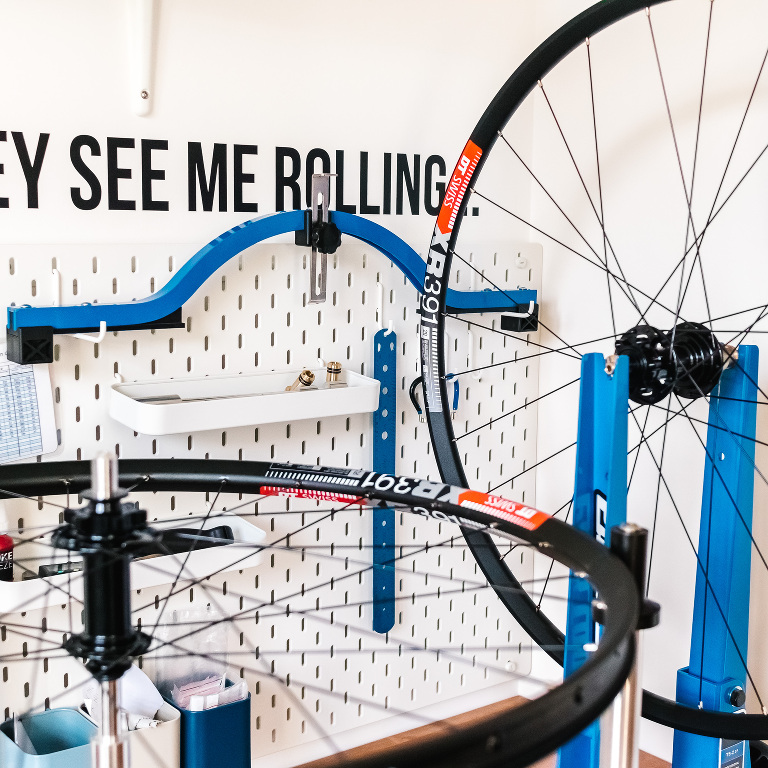 "Building my dream XC hardtail, I knew there was only one option. Quality hand built wheels, superior to factory wheels in many ways. My long time friend Colin worked with me to spec. the wheels, provide final weights and give solid advice. Build and shipping were fast. 800km in the first two months and they are still running true. DT Swiss rims and Bitex hubs were a great choice, providing enough strength with off the mark acceleration. I'll be back again for my next set of wheels."
•
Custom Cut Spokes
Custom cut spoke orders have been rolling in well over the last month. It makes me feel all warm and fuzzy inside.
And as the weeks tick by, stock variety will continue to improve.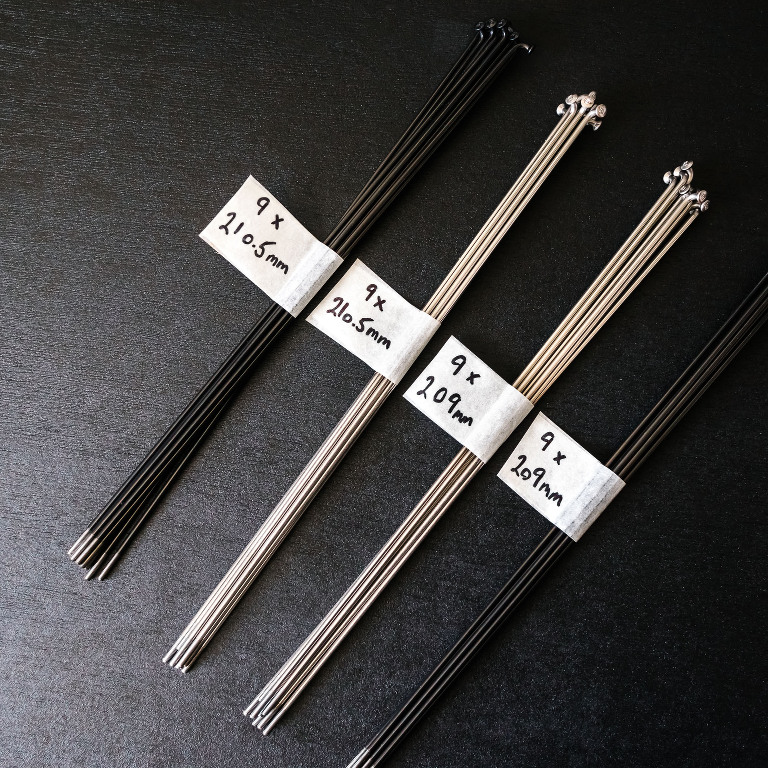 Bike shop/workshop trade accounts are very welcome – simply drop an email to colin@ambikeco.com.
•
Fulcrum RT-013 Freehub Replacement
RT-013 freehubs are used on Fulcrum's lower end wheel offerings – in this case a Racing Sport DB.
Supplied on complete bikes to keep the overall cost down, these wheelsets are often the first main upgrade riders will make and it's with good reason. They're heavy, the rear hubs run on only two small bearings (6001 NDS and 6000 DS) and the freehubs are both prone to failure and relatively expensive to replace.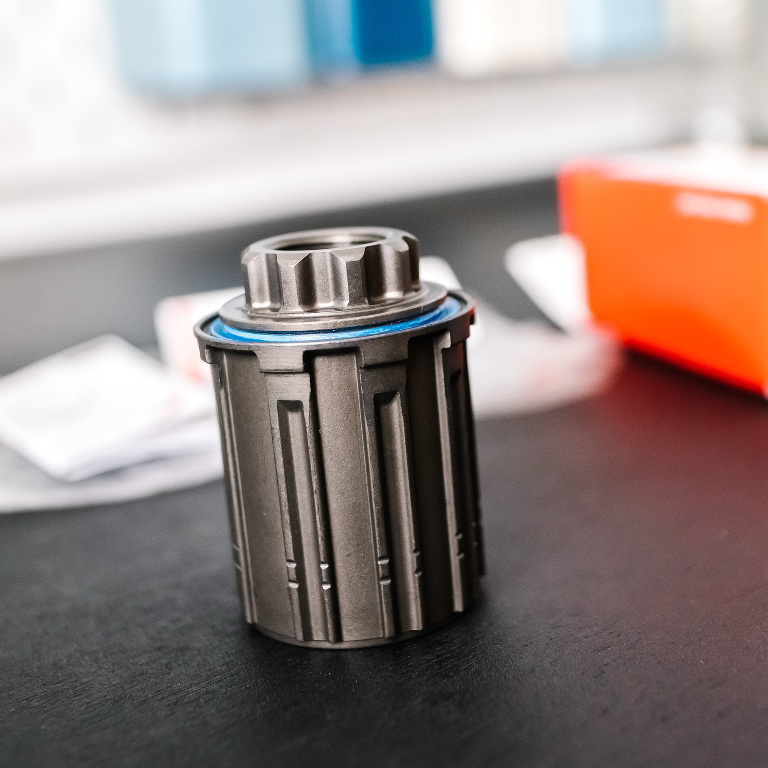 As much as it pains me, I normally recommend customers don't go down the route of repairing these wheels when there's a freehub failure. I just don't think it's money well spent even though I hate to see another bike part written off prematurely.
On this particular occasion, the owner decided to go ahead with the repair but relegate the wheel solely to the turbo trainer. I hope it treats him well.
•
#26aintdead
It's the wheel size most of us will have used when we first started MTBing but it is rare to see it on the trails these days. Thankfully DT Swiss still honour 26″ with their mighty EX 471 rim for retro builds or those who refuse to upgrade.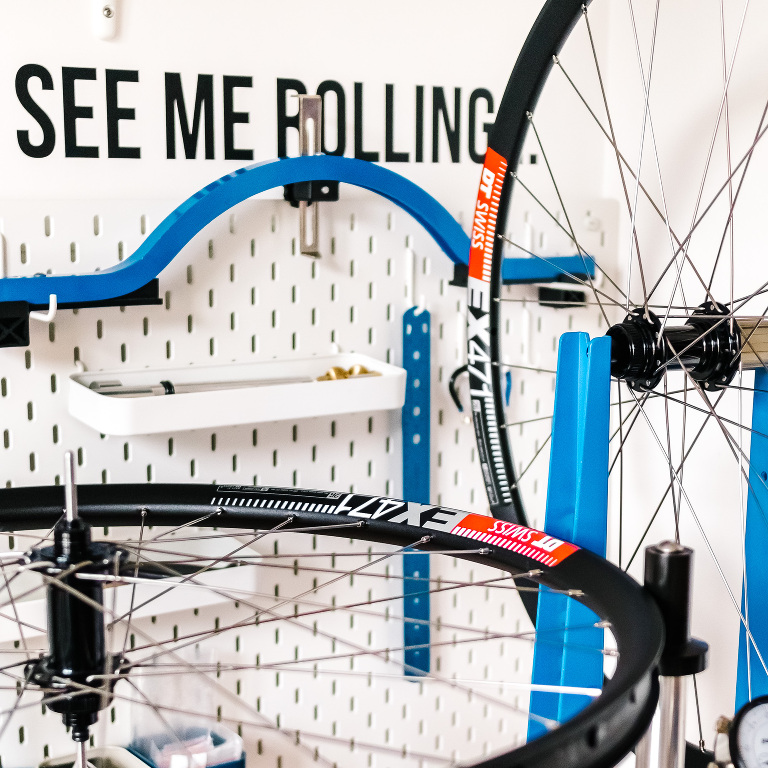 This was a true old skool mountain bike build, with the rims laced to 100/135mm quick release Bitex BX106 hubs.
•
Park Tool CSH-1 Clamping Spoke Holder
Park Tool did a proper job on their new clamping spoke holder. I genuinely wouldn't want to build another wheel without one.
It stops wind-up dead in its tracks and makes tiny tension adjustments much easier, especially on thinner gauge spokes. The clamping mechanism protects against scratching too.
Really impressive.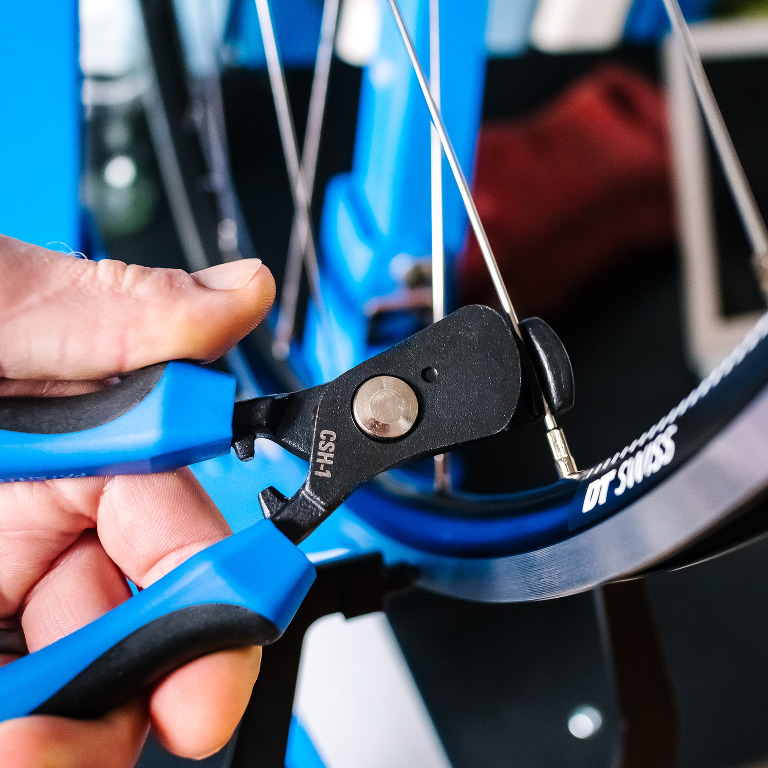 I'm all sold out for now, with more on order and due back in stock late July.
•
Mavic Ksyrium Elite Disc Hub Service
Last year this Mavic Ksyrium rear wheel passed through the workshop for a full tension balance after some questionable work carried out elsewhere. It recently passed over the bench again for a hub bearing service in preparation for a heavy year on the roads.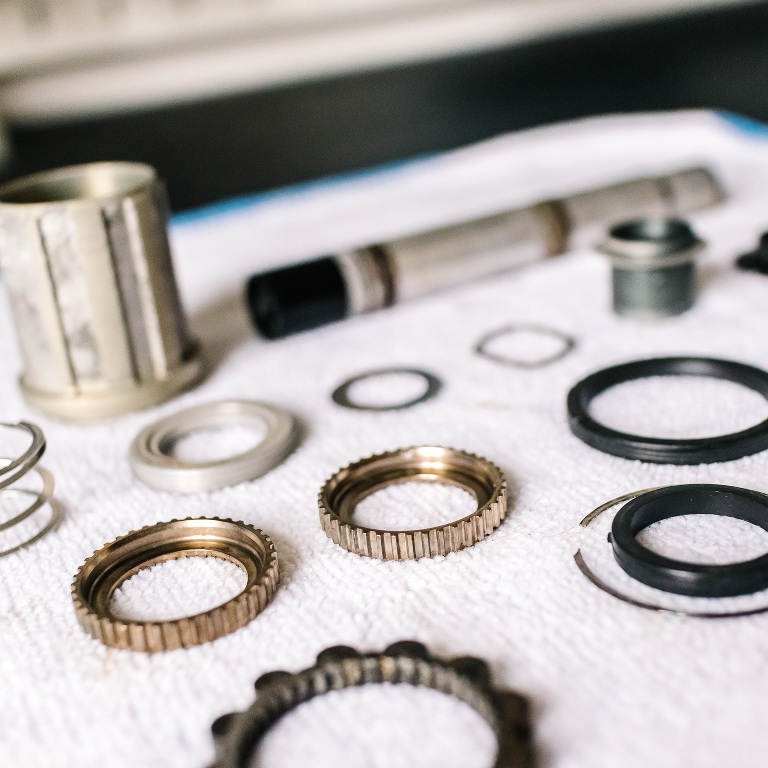 Hub internals fresh from the ultrasonic cleaner and ready to assemble. Compare this highly serviceable freehub to the disposable Fulcrum RT-013 above and it's easy to see the many benefits to upgrading.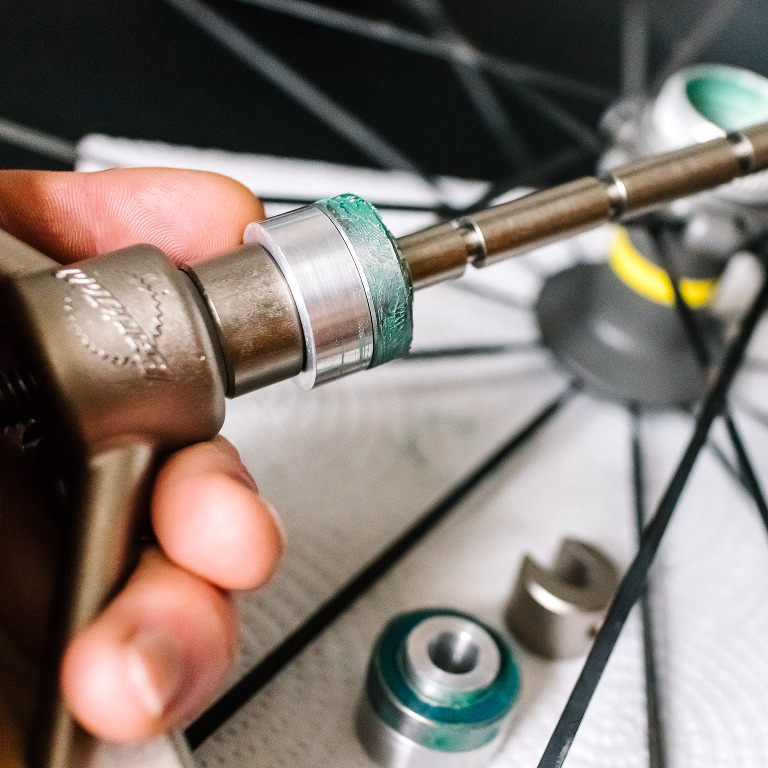 In the middle of last year I asked Gav at August Bicycles to turn these custom bearing drifts in the lathe for 17 x 28 x 7 bearings. It's a size not included in the Park Tool bearing drift set and it's always bugged me when servicing certain hubs, including models from Mavic and Hope. Proper tooling makes life so much easier.
•
Random News
• There's a cool 20″ tandem wheelset build due in the stand at the beginning of April for Ciaran from The Bike General near Greysteel. It's always a pleasure to build wheels for other mechanics.
• The longer days and warmer weather have placed bikepacking right at the front of my mind and I'm definitely not the only one. Almost every cyclist I've spoken to recently has it on their list for the year. Bang on trend and it's great to hear.
• The workshop will be closed at some point in April for a week, then again at the beginning of May. The dates are still to be confirmed but I'll update as soon as I know.