May was probably my highest mileage month on the bike in over 5 years. I found myself on the trails at sunset on quite a few occasions and I loved them all, despite some questionable weather for this time of year. Mid-week evening rides are the best.
And when I wasn't on the bike, I was at the bench.
DT Swiss RR 521 – Most Popular Rim This Month
The award for most popular road disc rim this month (and next!) goes to the DT Swiss RR 521 by a country mile. Strong, stiff, wide, semi-aero and reasonably light all rolled into one. Great price too.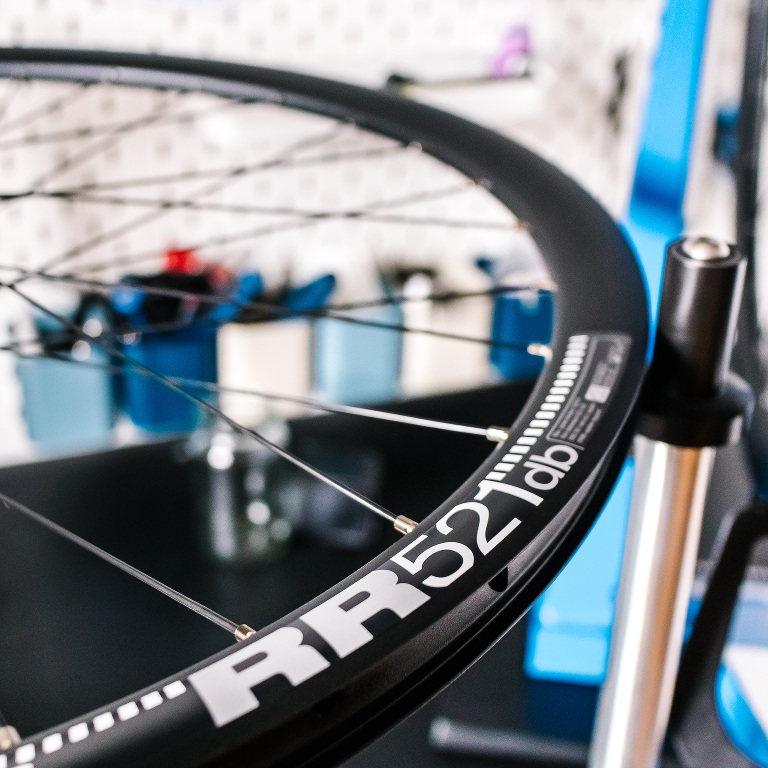 Most of the RR 521 wheels this month were built for heavier riders who kept having issues with their old stock wheels. I heard stories of cracked spoke beds and broken spokes galore.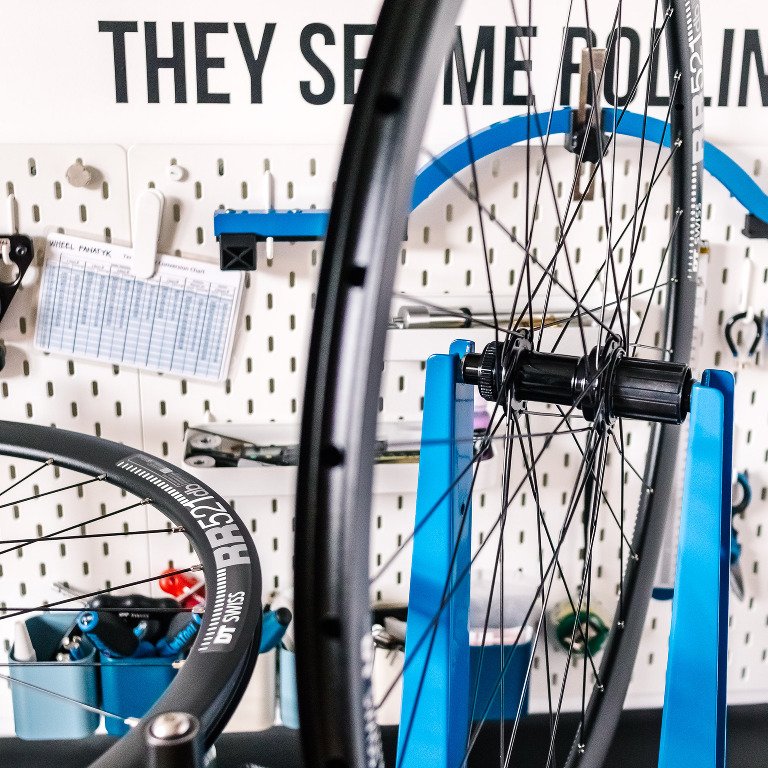 The RR 521 is the ideal candidate for this kind of wheelset. With the correct hub and spoke combination, the resulting wheels are more than capable of withstanding the higher loads involved without a second thought. Truly great rims.
•
Bitex BX106 Centre-Lock Disc Hubs – Lime Green
These stunning lime green Bitex BX106 centre-lock disc hubs are new in stock and ready to build.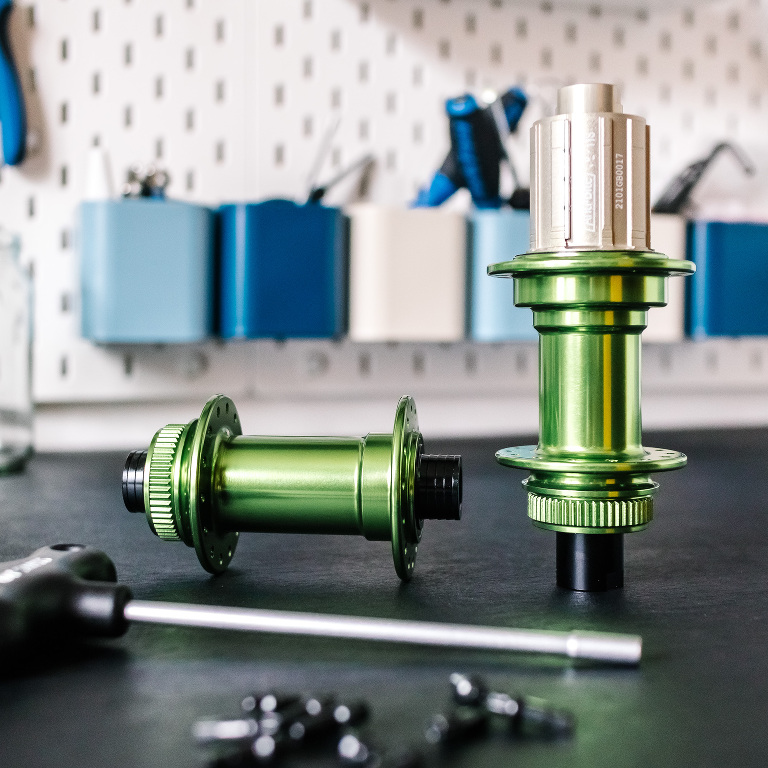 The BX106 is an incredibly versatile hub, covering all bases from road racing right through to cross country mountain biking. Shown here in the 100/142 x 12mm option with 11-speed aluminium freehub and aluminium axle.
Pair these hubs with DT Swiss GR 531 rims for a perfect Irish gravel/adventure bike wheelset.
•
Dale's Stock Mountain Bike Rear Wheel Replacement
A 29er rear wheel build to replace Dale's original Shimano Deore on Alexrims ZX20 wheel, which almost folded in half.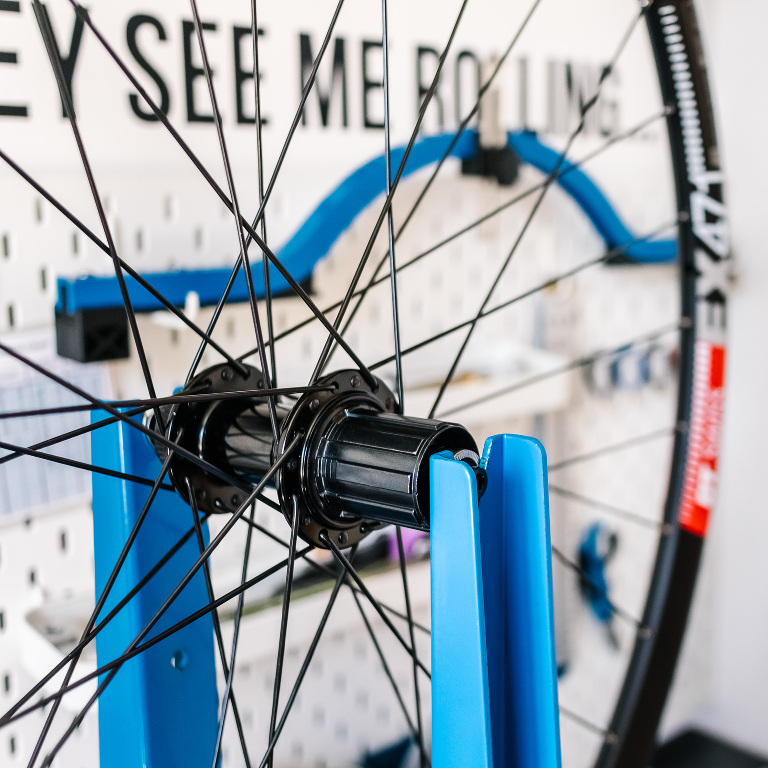 The EX 471 MTB rim is my go-to when a customer needs to upgrade a stock rim with a stronger one. The 25mm internal width suits the tyre sizes found on most entry-level mountain bikes and it's available in 26″, 27.5″ and 29″ to cover all bases.
A 135mm quick release Bitex BX106 with upgraded steel freehub body and axle fit the bit perfectly when it came to the hub, further highlighting the versatility mentioned above.
You can check out more details on Dale's build here.
•
E-Bike Rear Wheel Rebuild – Ryde Andra 40 Rim
This rear wheel rebuild was one of two e-bike rears that left the bench recently. In both cases I opted for Ryde Andra 40 26″ rims for their immense durability and angled spoke holes, along with Sapim E-Strong spokes for their heavy gauge and overall strength.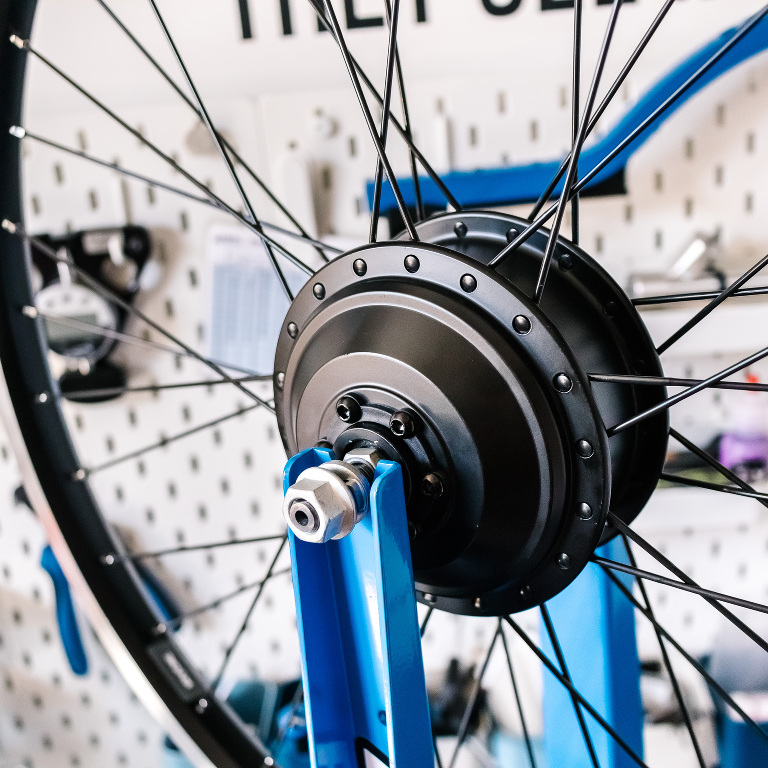 The approach to lacing is often very different with hub motor e-bike wheels. Large flange diameters and odd flange spacing often mean "standard" patterns simply won't work. On this particular build, lacing heads out on the NDS and heads in on the DS was the only option to find a balance between bracing angles. Lacing 1-cross was also the only option here.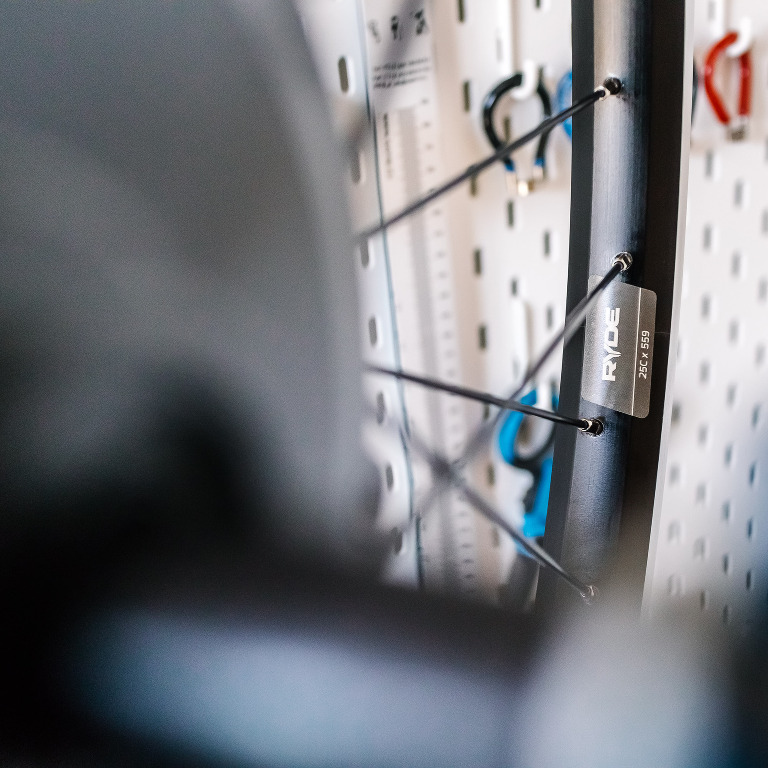 Although the Andra 40 is a heavy rim and not as refined as some options, it is perfectly suited to utility e-bikes where stresses are high.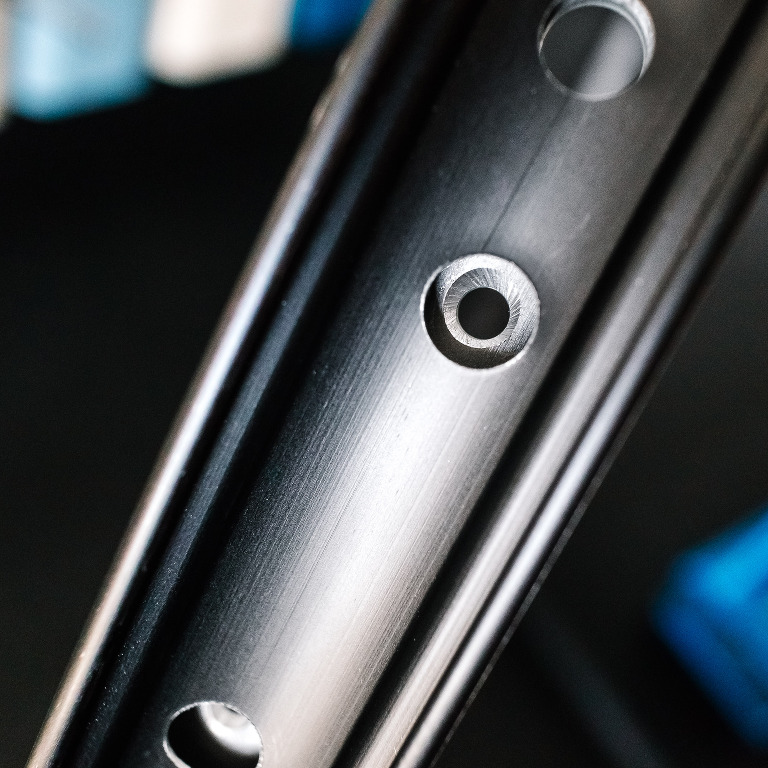 The rims have very effective angled and countersunk spokes holes. These help to alleviate stresses on the spokes as they enter the nipples by allowing better overall alignment, especially on wheels with large diameter hubs. Although a lot of material is removed from the rim's spoke bed in the countersinking process, the aluminium is so thick here that there's no cause for concern.
•
Drop Bars Not Bombs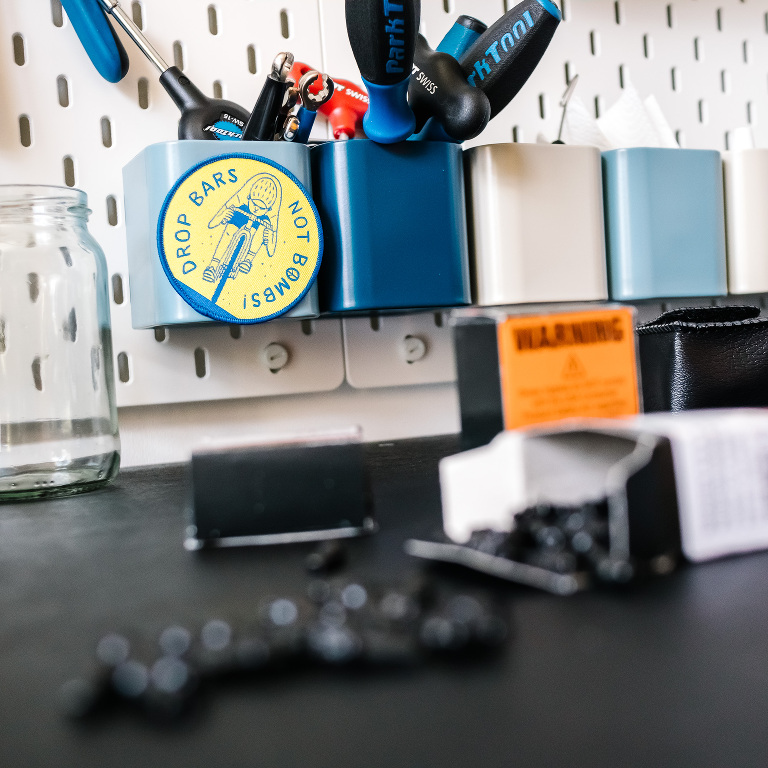 Patch design by Matt Blease with all proceeds going to the Choose Love Ukraine Crisis fundraiser.
•
Track Wheelset Rebuild – H Plus Son Archetype
This pair of H Plus Son Archetype rims in 36h arrived earlier today for a track wheelset rebuild that's booked in for June.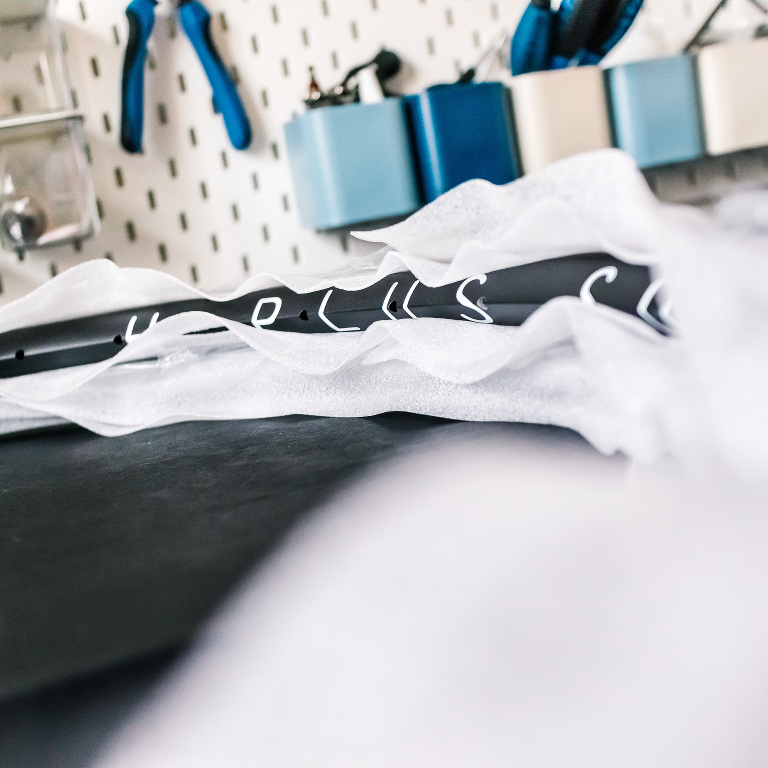 As I've mentioned a few times in the past, I really like the Archetype for rim brake and track wheels that'll use 25c rubber with tubes. They build really well and can withstand a lot of abuse from rough roads. And they look great too.
I'll share the finished wheels next month.
•
More Alloy Nipple Corrosion – Michael's Reynolds 46 Aero Clincher
Another Reynolds carbon wheel came in for repair this month due to corroded alloy nipples.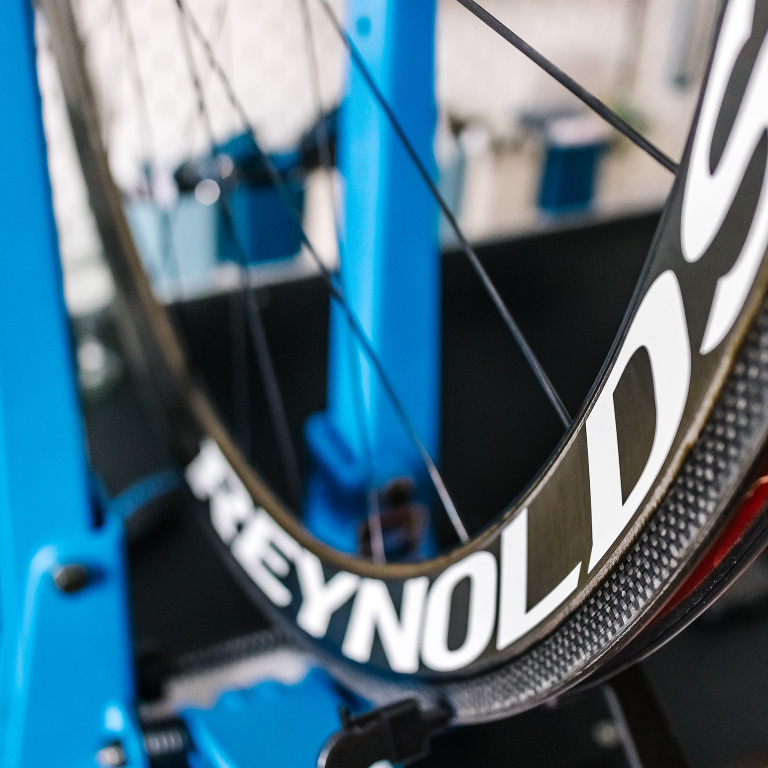 On last month's Reynolds MTB wheel, the owner decided on a rebuild with brass nipples for peace of mind. On this wheel we kept costs down by only replacing the nipples at fault (2 in total).
•
20″ Shimano Alfine Tandem Wheelset
This tandem bike wheelset for Ciaran from The Bike General near Greysteel left the workshop a few weeks ago.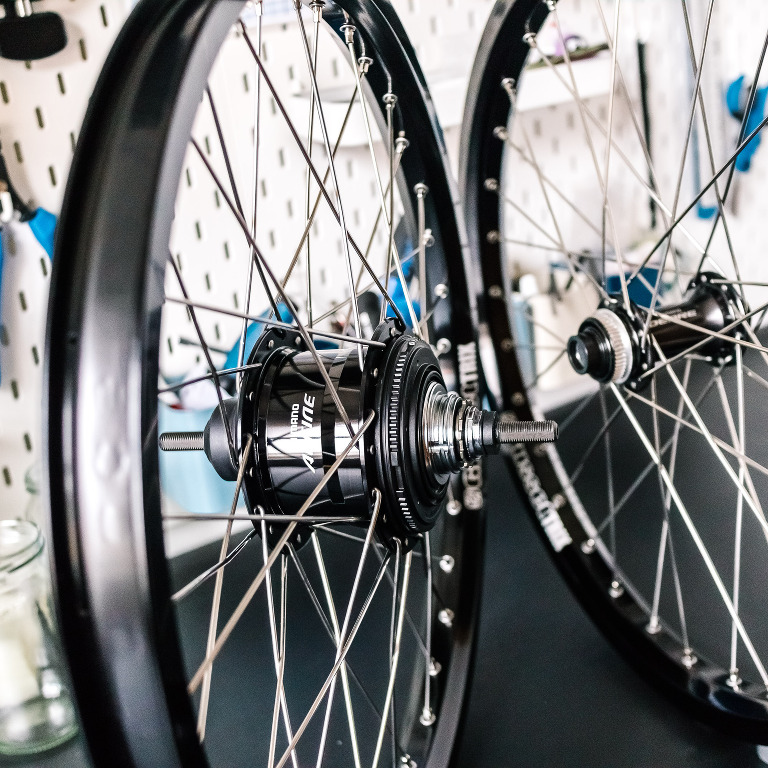 Customer-supplied Shimano Deore and Alfine hubs were laced to 20″ Gusset BMX rims with a combination of Sapim Leader and Strong spokes.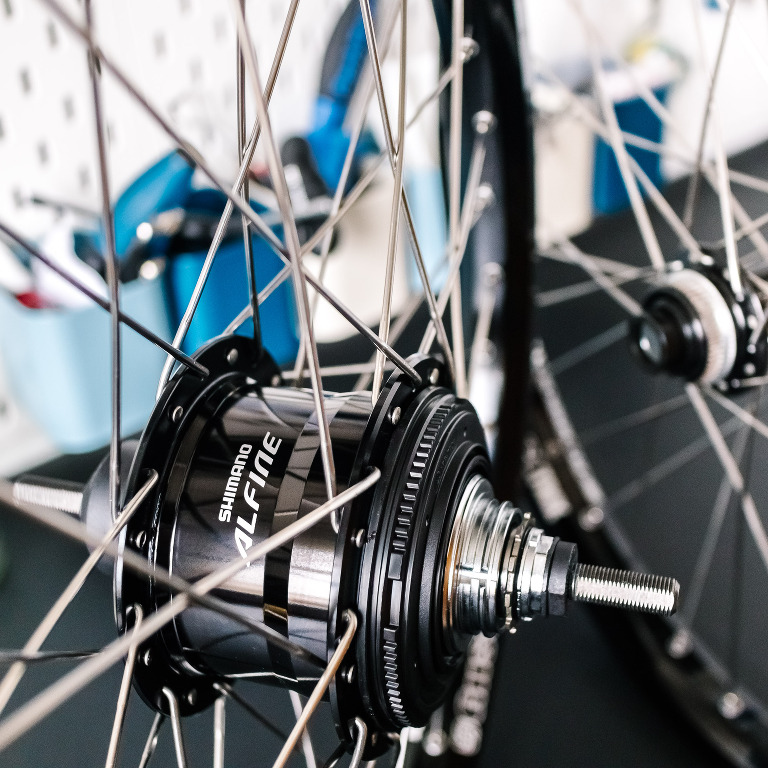 It's an extremely strong and stiff wheelset that'll serve well for many miles under the family's new tandem.
•
Random News
• If you follow me on Instagram, you'll know that I fired up the brazing torch this month for the first time in over a year. I was inspired by Em at WZRD Bikes on Vancouver Island to add triple cargo mounts to the rigid fork legs on the Inbred, along with some much-needed cable guides and front rack mounting points. Next stage will be attempting the matching rack itself if I can settle on a design.
• The workshop will be closed for two weeks from the 13th June for a well-earned break. I have a lot of cycling routes all over the north to tick off, along with kickstarting my sub-90 mins training for the Antrim Coast half marathon in August.
• I mentioned the growing popularity of bikepacking a few months ago and it's only gained further momentum since then. If it's not already on your radar for this summer, check out the starter guides over on Bikepacking.com and give it a whirl yourself. These two wheeled machines we love so much have the potential to unlock a world of adventure right on our doorsteps.
• Ed Sheeran live in Belfast. Wow.