October was a very busy month in the workshop (thank you!), with an interesting mix of rebuilds, repairs and customs passing over the bench. Let's check out some of the recent highlights.
Prime V2 50mm Carbon Rim Rebuild – DT Swiss 350 Hubs
Jonathan decided it was time to upgrade his Prime V2 50mm carbon wheels after a series of hub bearing failures and cracked alloy nipples. With the rims themselves still in really good shape, saving them and rebuilding with new hubs, spokes and nipples made the most sense.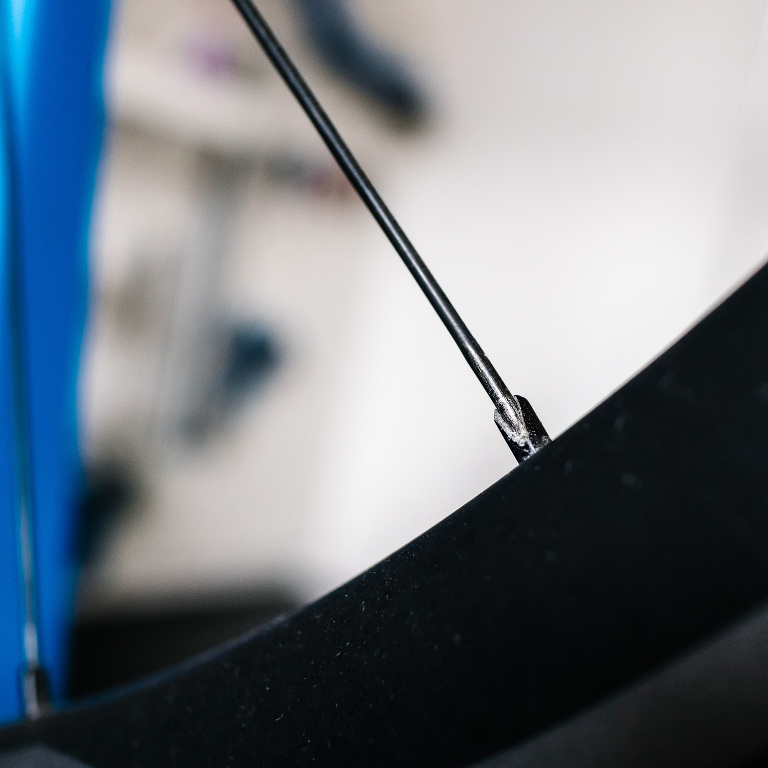 An example of one of the many cracked nipples on Jonathan's wheels. Although the actual threads were still intact on this particular nipple, it was only a matter of time before they failed too.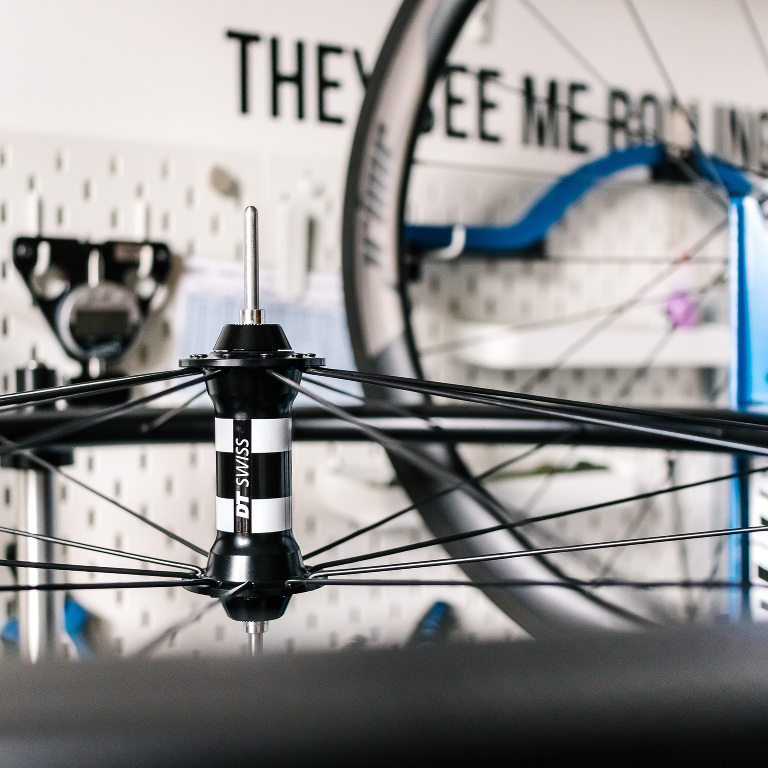 DT Swiss 350 road hubs were the obvious choice for this rebuild. Great performance and reliability at a very affordable price.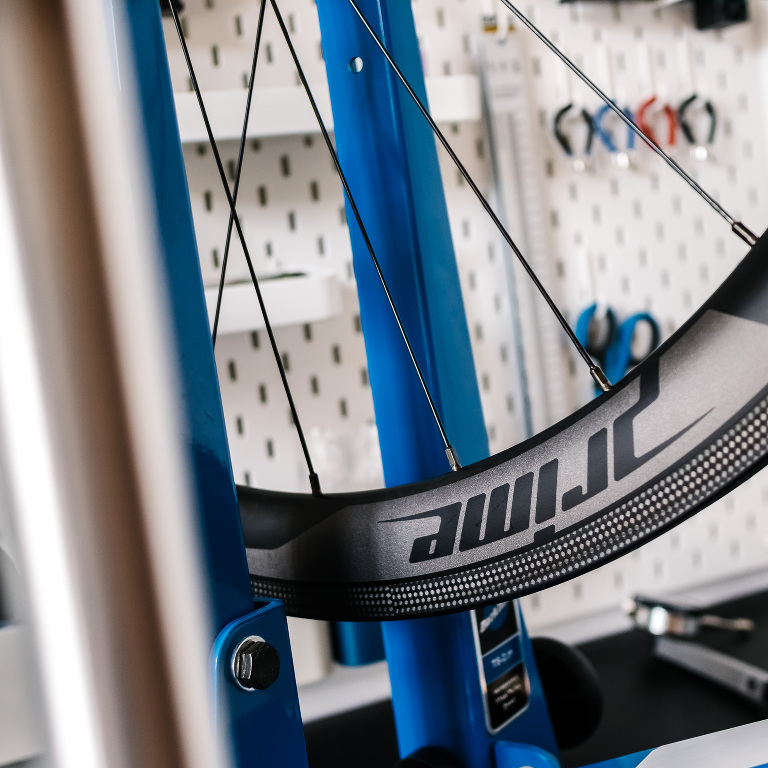 The Prime rims, despite being on the lower end of the carbon scale, did build nicely with the new hubs and Competition spokes. The resulting wheelset was a huge improvement over the original.
•
David's DT Swiss PR 1400 Dicut Spoke Replacement
This DT Swiss PR 1400 Dicut front wheel was left in for 4 new spokes following a few breakages and unsuccessful repairs elsewhere.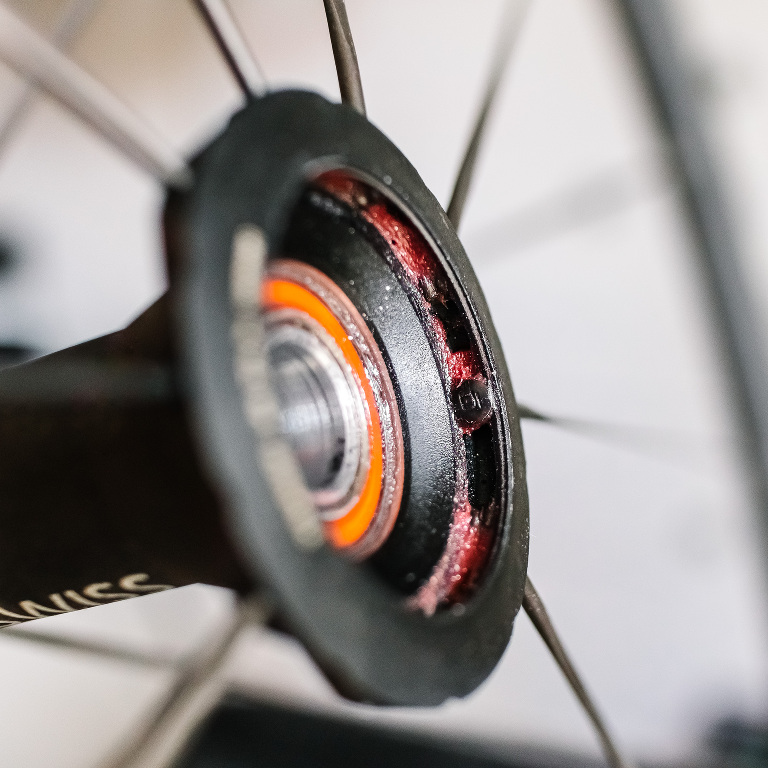 DT Swiss' Dicut wheels almost exclusively use their Aero Comp Wide T-head spokes, which means the hubs aren't compatible with standard straight pull spokes when it comes time to replace them. Unfortunately that's what had been used here on one of the repairs. Not good.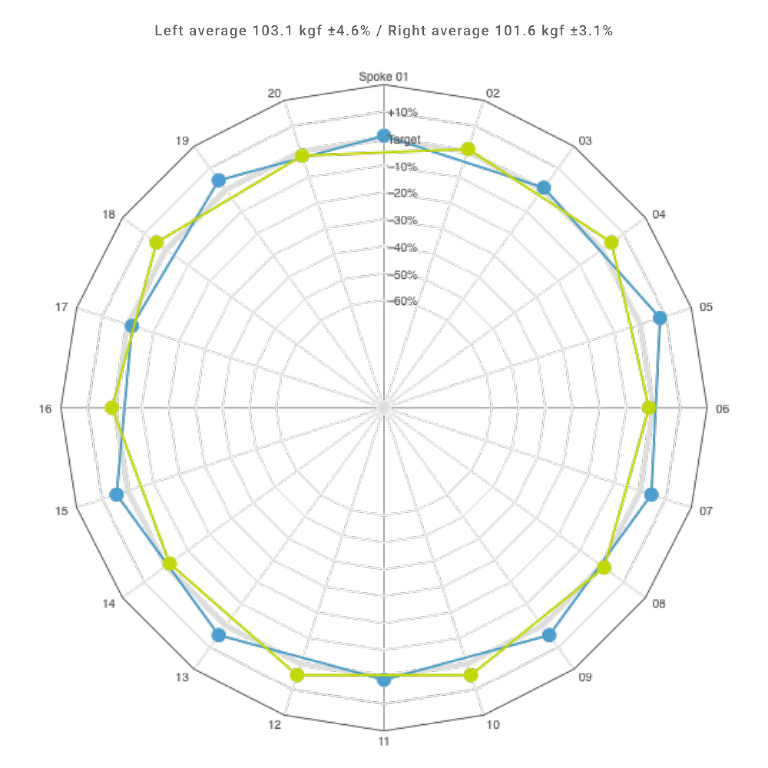 Following the replacement of the offending spokes and nipples, David's wheel was both trued AND carefully tension balanced as a final step before leaving the bench.
•
New Favourite Tool – Hand Ratchet Driver
Although it's a new tool at the wheel bench, this hand-held ratchet driver has been tucked away in dad's garage for many years, patiently waiting on a moment to shine.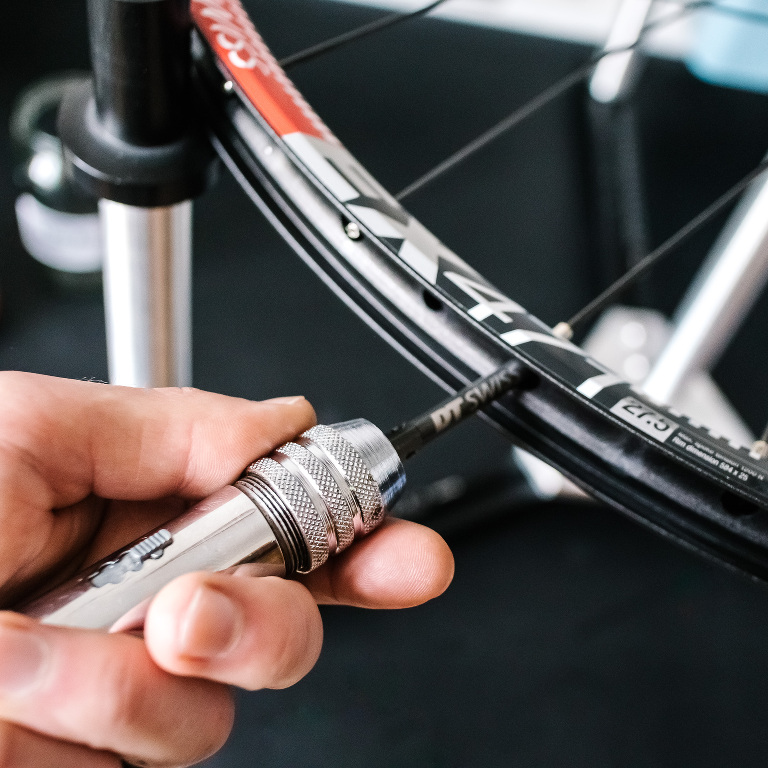 Having never felt particularly comfortable using a battery powered drill with nipple drivers (such as the DT Squorx nipple driver), this hand ratchet tool has been a revelation. Not only does it feel less erratic and cumbersome, it also makes locating nipple heads inside deep rims (30mm+) significantly easier.
Control > speed. Always.
•
Pacenti Brevet Wheelset Tension Balance
Robert booked in his retro-styled Pacenti Brevet wheels for a service following a few irregular noises out on the road. As part of the service work, he asked me to check over and balance the spoke tensions to maximise the wheelset's lifespan.
I've included the before and after tension charts for the rear wheel below.
Tension Chart – Before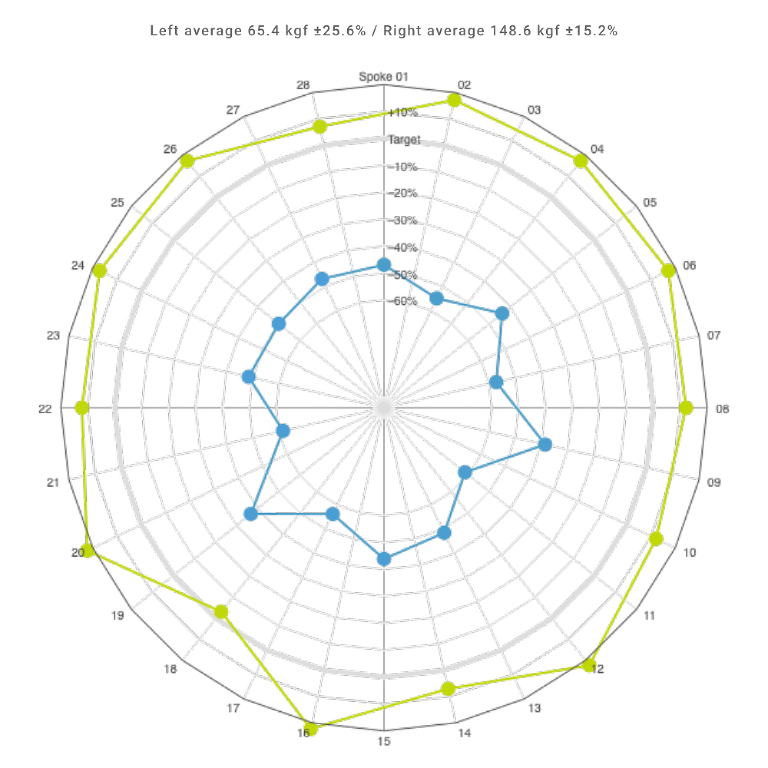 You can see here that the NDS spoke tension balance was quite poor, even though the wheel was running fairly true in the stand. This imbalance would have eventually resulted in a full loss of trueness and a few broken spokes as the miles stacked up.
The DS spoke tensions were also very high at 148.6kgf.
Tension Chart – After
Following my tension balancing process the DS and NDS were both significantly improved. Unfortunately it wasn't possible to obtain <5% on the DS due to an imperfection in the rim though.
During the process I also pulled the overall tensions down slightly to help lower the risk of rim issues over time. This was done with care to avoid the NDS tensions dipping below 60kgf.
I'm glad to report the wheels have been on a few long rides since their service and they're noise-free and spinning perfectly.
•
DT Swiss 370 Ratchet LN Upgrade – ARC 1650 62mm Carbon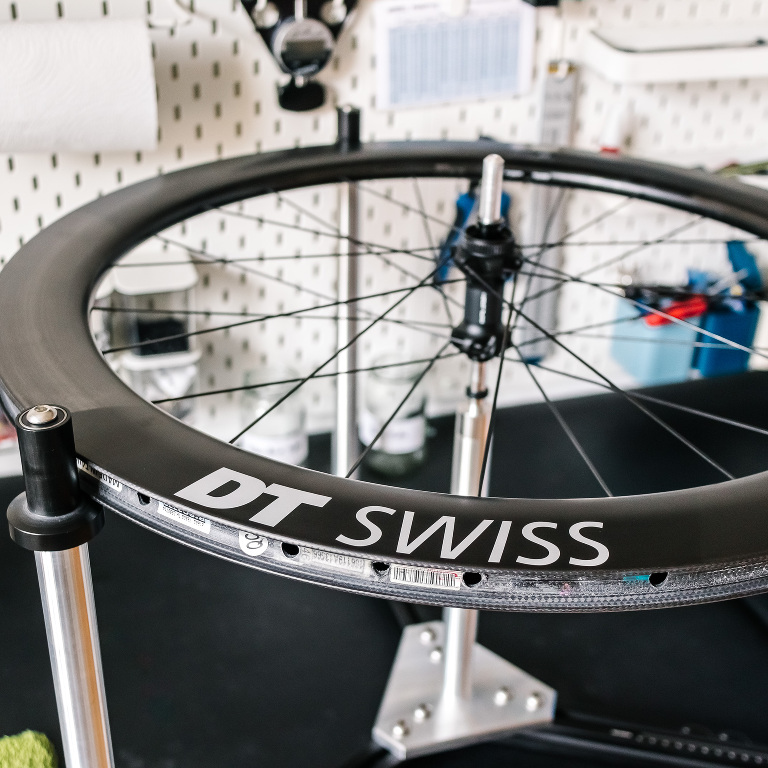 Mark left his second hand (eBay purchase) ARC 1650 wheelset in for a service this summer after a creak appeared in the rear wheel. Unfortunately a thorough inspection of both wheels opened a can of worms and resulted in them being sent back to DT Swiss for a warranty replacement of the rims.
Once they were back safely in the workshop earlier this month, I carefully tension balanced both wheels within 5% and installed a Ratchet LN kit to the rear wheel.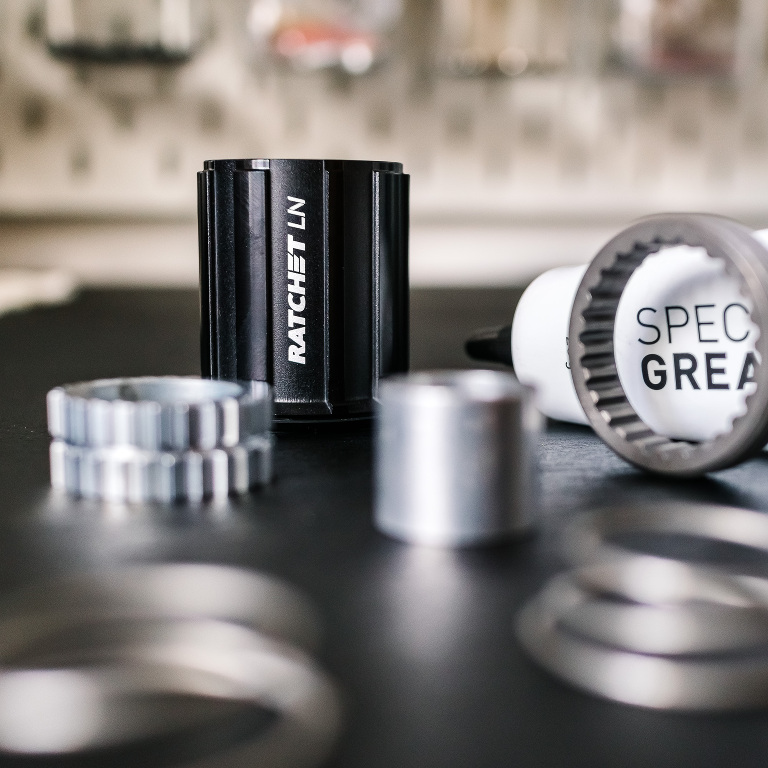 This kit is a worthwhile upgrade for all DT Swiss 370 users, bringing with it increased reliability and easier servicing compared to the original 3-pawl setup. It basically turns the hub into a 350 without the need to upgrade the entire hub shell and rebuild the wheel.
A really cost-effective solution at £80.
•
Random News
• I tagged along with a riding buddy to visit Fustle HQ in Bangor for the first time earlier this month. It was great to finally meet Alastair and his team after admiring them from afar for so long. If you're unfamiliar with their frames/bikes, they're basically aggressive drop bar gravel bikes that absolutely shred off-road trails but still hold their own on the road too. Their progressive geometry really works a treat when the going gets rough. Check them out.
• With the dark nights and wet roads here to stay for the next 6 months or so, washing your bike after every ride is set to become the norm again. This is simply a gentle reminder to avoid spraying solvents/degreasers directly onto your cassette or power washing too close to your hubs. Your bearings and your disc rotors/pads will all thank you.