With wheel build bookings really ramping up towards the end of the summer, I'm quite far behind on updates here on the blog. There's a list of customs as long as my arm to share over the coming winter months.
For now though, here's a quick insight into life at the bench over the last few weeks.
Paul's DT Swiss RR 521 Disc Touring Wheelset
A touring wheelset for a customer who once called me "Northern Ireland's answer to Steve 'Gravy' Gravenites". A huge compliment, especially from someone who has met the man himself.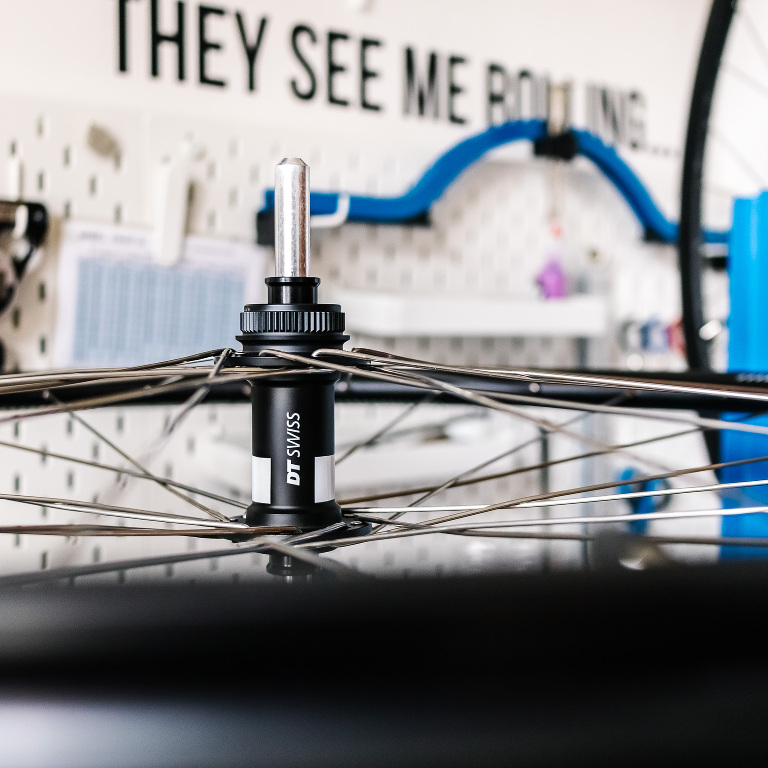 Paul's requirements for the build were fairly straightforward. It needed to be suitable for heavy loads (100kg rider plus touring gear), fully compatible with the MTB groupset on his touring bike and optimised for 35-38c tyres set up without tubes. To achieve all of this I matched the new DT Swiss 350 MTB hubs with RR 521 wide road rims, all laced together with Sapim Force triple butted spokes and DT Squorx brass nipples. To allow the front hub to run on a 12mm axle instead of the MTB standard of 15mm, a DT 350 12mm conversion kit (HBDTS6885S) was also fitted.
Paul was nudged down the route of a custom wheelset after reading Robert Penn's very popular book 'It's All About the Bike', which is an ode to the hand-built and tailor-made side of our industry. It was a genuine pleasure to build bespoke wheels for such a keen life-long cyclist.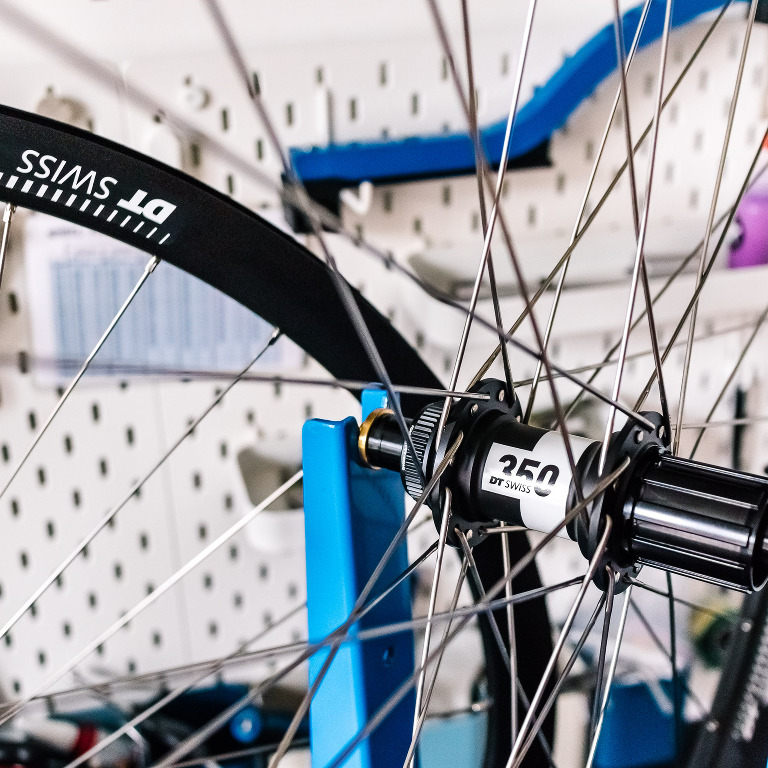 This build turned out to be very similar to John's wheelset from earlier this year – Clydesdale through and through.
•
Hope Pro 3 Freehub Service – Before and After
Few service jobs are as satisfying as a freehub overhaul, especially when the internals are this caked in dirt and grime. It totally transforms a hub's performance and reliability.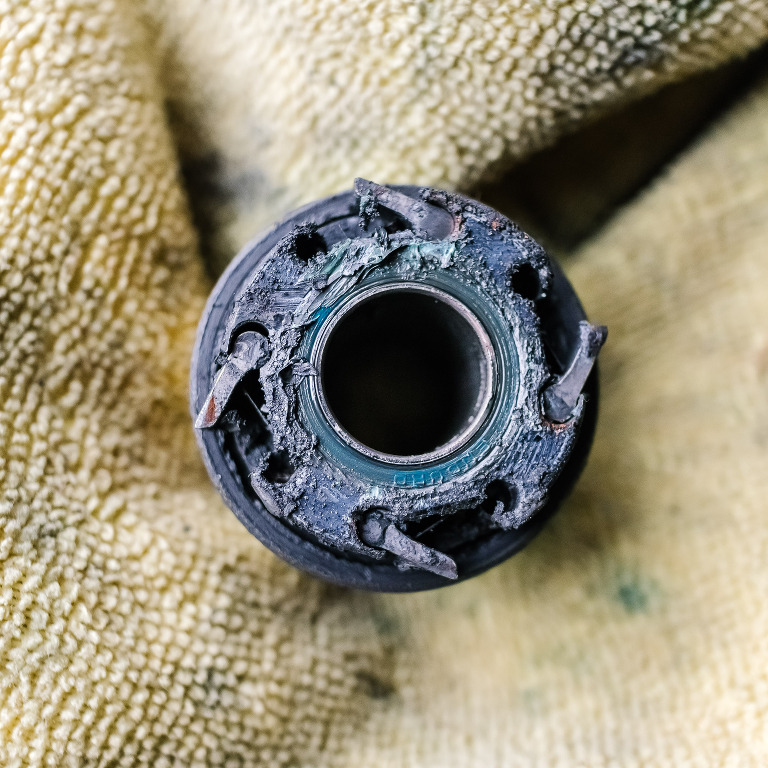 This particular Pro 3 hub has been in for servicing a number of times over the last 2 years. When it first arrived back in 2020, only 2 of the 4 pawl springs were intact and the freehub was constantly slipping under load. Thankfully this time it only needed a thorough cleaning and fresh bearings.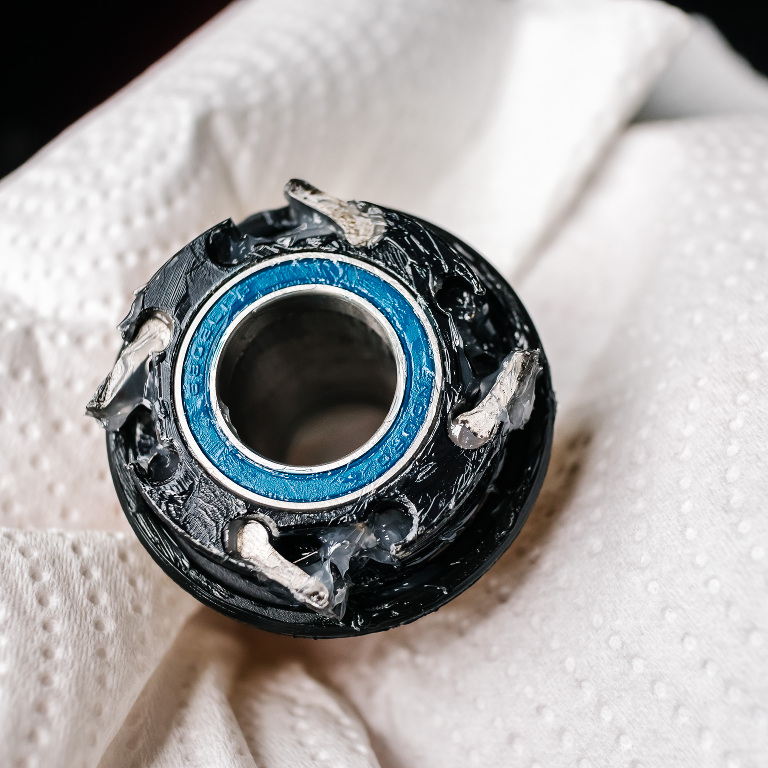 Fully serviced and ready for another few thousands miles.
You'll notice in the photo above that I applied more grease than is normally recommended for Hope hubs. That's due to the less than ideal sealing found on the Pro 3 model (i.e. not the new labyrinth seal) and the hard life this particular hub leads. Every little helps.
•
There's always someone who charges less
Customer: "Can you please replace my broken spokes, but do it in a way that shows you know absolutely nothing about wheels and don't really care about the quality of your work at all?"
Shitty bike mechanic: "Say no more, fam."
Some of the bodged repairs I've had in recently (all carried out by local workshops) would genuinely scare you. It's terrifying to think how many riders must be riding on wheels with dark and dangerous secrets, all thanks to the incompetence of their mechanics.
These two spokes, along with 3 others, came from the same disaster rear wheel earlier in the summer. A mix of plain gauge, double butted and bladed aero spokes had been used to replace previous breakages, and each one was a different/incorrect length. The threads on the left hand spoke in the photo weren't even engaged in the nipple. Shocking stuff.
I'm very glad the wheel made its way across my bench to be repaired properly.
•
Utility Bike Rear Wheel – Shimano Nexus
A 36 hole utility bike rear wheel build for Holywood-based mechanic Adam Craig.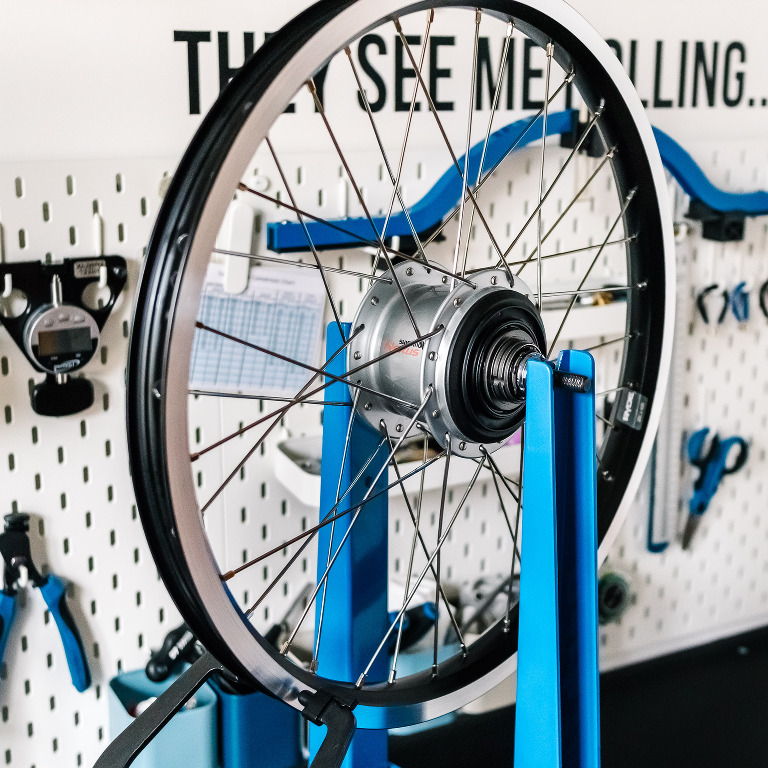 The Nexus hub and Andra 40 rim were both supplied by Adam, with spoke and nipple choice left up to me. I opted for Sapim Strong single butted spokes with spoke head washers and brass nipples. The Strongs, with their 13g (2.3mm) elbows, for fatigue resistance and a snug fit in the Nexus' large spoke holes. The brass spoke head washers for even better fit in this key area. And the brass nipples for durability and resistance to corrosion.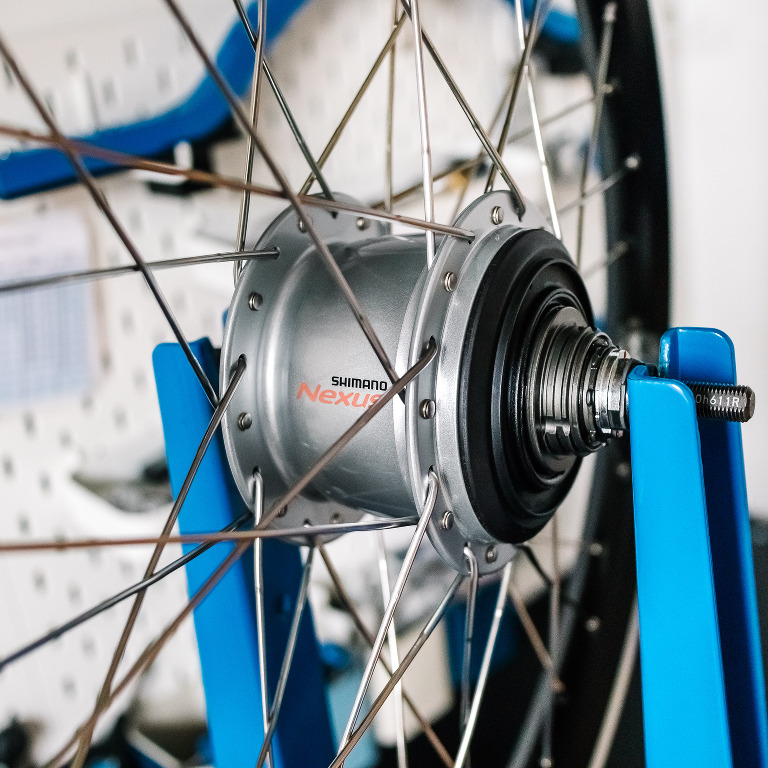 The angled and countersunk spoke holes on the Andra 40 allowed for 2-cross lacing without severe spoke lines at the nipples. It's a shame this 20″ version of the rim isn't available from the UK distributor.
•
Prime BlackEdition 38 Carbon – Cannondale Ai Dish
By his own admission, this customer made "a bit of a mess" when attempting to dish his rear wheel for a Cannondale Ai frame. And it's totally understandable given the seized nipples and his lack of tools and experience.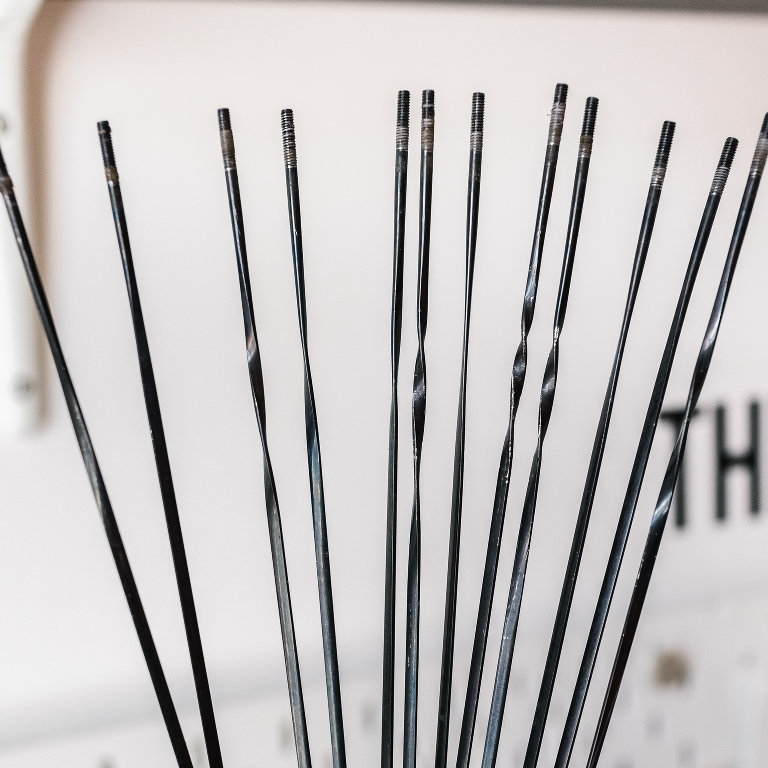 Unfortunately it turned what would have been a reasonably straightforward job for a skilled builder into an expensive repair though. But all's well that ends well.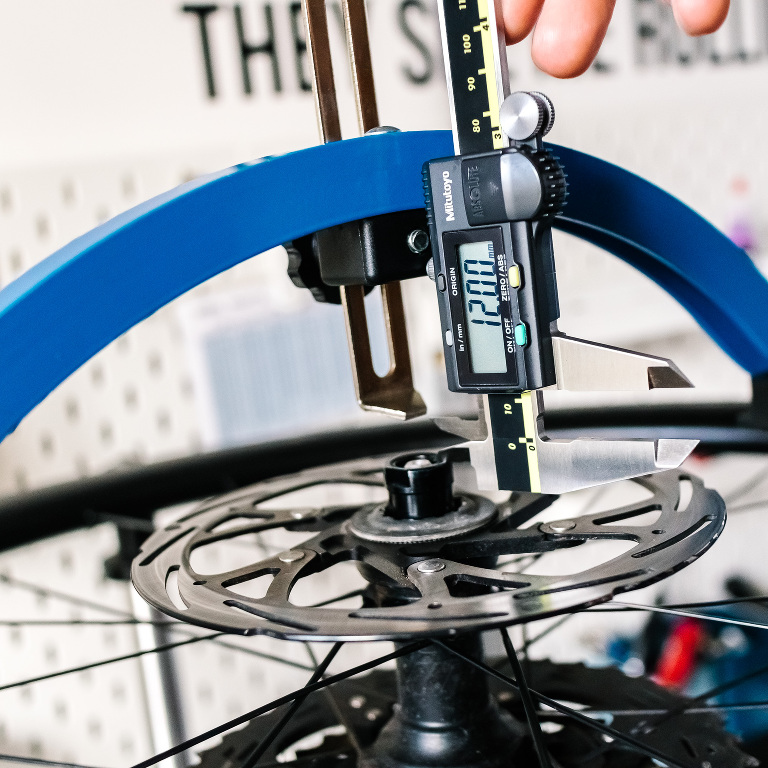 The wheel left the bench again this month with new non-drive side CX-Rays, dished perfectly for the frame's 6mm offset (12mm difference on a dishing tool) and spoke tension balanced within 5% on each side.
The custom build queue is currently 3-4 weeks but smaller repairs, such as this one, are welcome at any time. Simply get in touch.
•
Silver On Black – A Comeback?
Silver seems to be making a comeback when it comes to component choice. Shimano's release of a limited edition silver GRX groupset is proof enough that the industry's ready for a change from all black everything. And on a more local scale, I've noticed a sharp increase in silver spokes being ordered through the online store.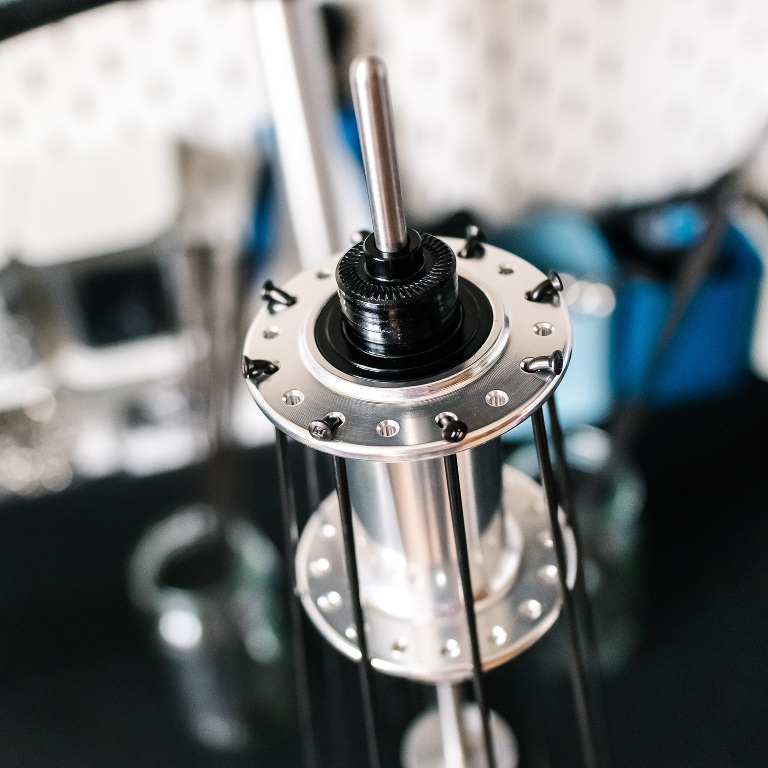 A great way to integrate this colour scheme into a custom wheelset, aside from the obvious black rims/silver spokes/black hubs combo, is with silver hubs and black spokes as shown above. It provides a really nice contrast and works particularly well with silver nipples and black rims.
Are you a fan?
•
Random News
• I missed last month's update because we were sunning ourselves (literally) in beautiful Connemara. It was our first trip to the area and it exceeded all expectations. Truly an outdoor lover's dream location.
• With the weather turning and your winter bike preparing to do battle for the next 4-6 months, it's a perfect time to show your summer wheels some TLC. It's all too tempting to leave this work until spring but that's often when bike workshops are at their busiest, with long queues and slow turnaround times. Take advantage of the quieter months and schedule your wheel services now while the pressure's off.